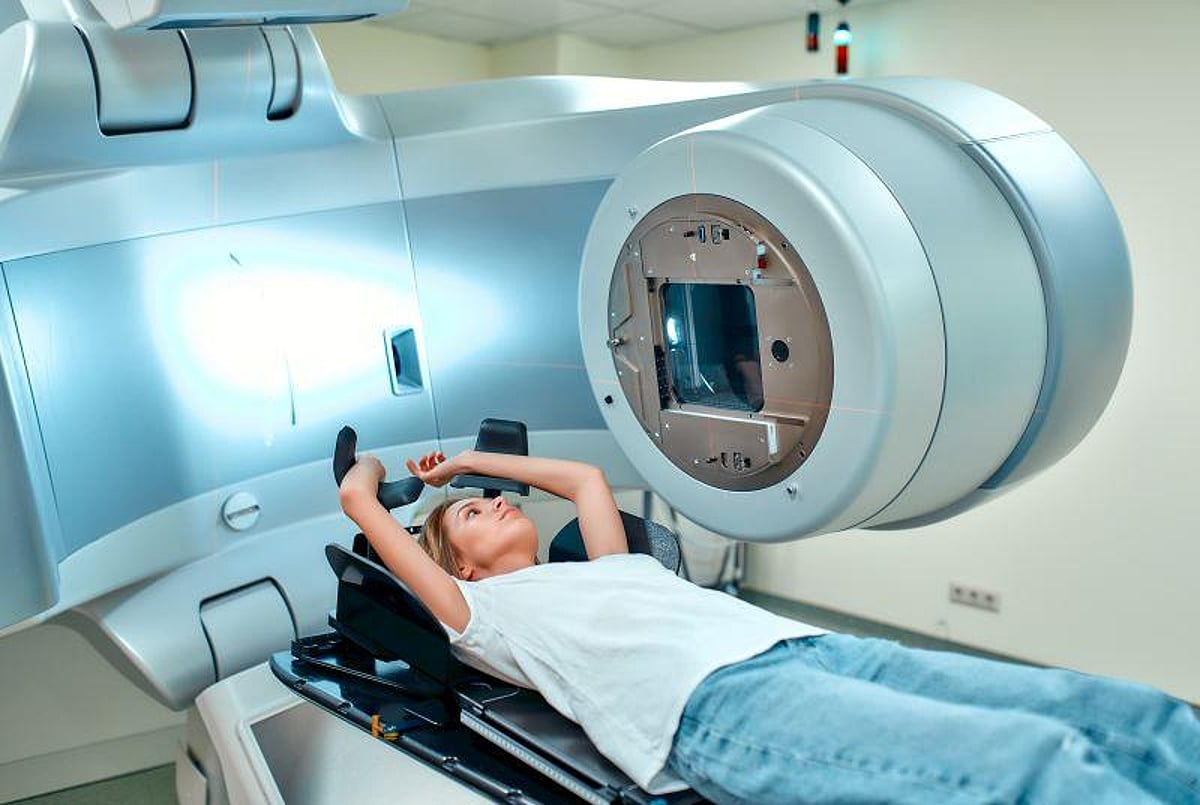 By Denise Mann HealthDay Reporter
THURSDAY, Aug. 17, 2023 (HealthDay News)
Many women with early breast cancer undergo breast-conserving surgery along with radiation to kill any errant cancer cells, but some may be able to safely skip radiation, new research suggests.
"If the tumors are low-risk, as defined in part by being caught early/small and in part by having favorable molecular features, the risk of recurrence is minimal even if you skip out on what has been considered standard-of-care radiotherapy," said study author Dr. Torsten Nielsen, a professor of pathology & laboratory medicine at the University of British Columbia in Vancouver.
Specifically, this low-risk group comprises women aged 55 or older with a breast tumor size of less than 2 centimeters (cm) that has not spread to their lymph nodes.
In addition, the cancer cells have not fully morphed and tested positive for estrogen and progesterone receptors. These breast cancers can simply be treated with hormone therapy drugs to lower risk of recurrence.
Women also had low levels of the protein Ki67, which helps control how fast cancer cells grow. This molecular profile is known as luminal A breast cancer.
"These are actually quite common features of breast cancer today and tend to run together," Nielsen noted.
For the study, 500 women whose breast cancers fit these criteria were followed for five years to see if their breast cancer returned in the same breast. Women took hormone therapy drugs to lower the chances of the cancer returning. The risk of recurrence was low, at about 2.3%, the study showed.
The risk of breast cancer recurrence in the same breast is decreasing due to screening, better surgery and systemic therapy, said study author Dr. Timothy Whelan, a professor of oncology at McMaster University in Hamilton, Ontario, Canada. "By combining clinical criteria [such as age and tumor size] with the luminal subtype, we were able to identify a very low-risk group."
The study was published Aug. 17 in the New England Journal of Medicine.
"We are truly in an era of breast cancer treatment where we are tailoring cancer therapy to each particular type of breast cancer, in the hopes of minimizing overtreatment," said Dr. Katherina Calvillo, a breast surgeon and founder of New England Breast and Wellness in Wellesley, Mass.
Some women will require surgery, medical therapy and radiation, but others may not, said Calvillo. "This study demonstrates that patients with low-risk breast cancers could safely omit radiation therapy," she said. "One size no longer fits all."
Radiation therapy does confer its fair share of side effects, including fatigue and skin burns.
"Currently, the standard of care is radiation therapy following breast conservation [lumpectomy], but this study warrants a discussion with a patient's radiation oncologist, reviewing the risks versus the benefits, so that patients can make well-informed decisions for themselves," Calvillo said.
Dr. Marisa Weiss, chief medical officer and founder of Breastcancer.org, agreed that a conversation with your doctor is the best way to make any breast cancer treatment decisions.
"This is the most favorable subtype of breast cancer, so no surprise that it was associated with a low risk of recurrence with endocrine therapy alone at five years of analysis," said Weiss.
Still, she cautioned, five years is relatively short in terms of follow-up.
"This subgroup remains at elevated risk of recurrence well after five years," Weiss said.
Not only that, but "a significant number of people who choose to take endocrine therapy, instead of radiation, end up discontinuing these medications due to side effects without capturing its full benefit," she added.
SLIDESHOW
See Slideshow
What's more, there are many more options today for short-course breast radiation, making this option more accessible and reasonable for more people, Weiss said.
More information
Learn more about the stages of breast cancer.
SOURCES: Torsten Nielsen, MD, PhD, professor, pathology & laboratory medicine, University of British Columbia, Vancouver; Timothy Whelan, MD, professor, McMaster University, Hamilton, Ontario, Canada; Katherina Calvillo, MD, breast surgeon and founder, New England Breast and Wellness, Wellesley, Mass.; Marisa Weiss, MD, chief medical officer and founder, Breastcancer.org, Ardmore, Pa.; New England Journal of Medicine, Aug. 17, 2023

Copyright © 2022 HealthDay. All rights reserved.
From
Cancer Resources
Health Solutions
From Our Sponsors