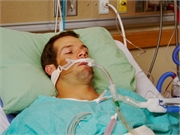 By E.J. Mundell
HealthDay Reporter
THURSDAY, Dec. 12, 2019 (HealthDay News) -- More than 2,400 Americans have now been hospitalized due to a severe lung injury tied to vaping, with certain brands most implicated, according to the latest update on the outbreak from the U.S. Centers for Disease Control and Prevention.
Across all 50 states, a total of 2,409 such cases have been reported as of Dec. 10, the CDC said in a statement issued Thursday. Fifty-two of those patients have died.
In most cases, patients had previously used a vape product that included THC, the chemical in marijuana that provides a high.
For that reason, the "CDC and FDA recommend that people should not use THC-containing e-cigarette, or vaping, products, particularly from informal sources like friends, family, or in-person or online sellers," the CDC said.
No one brand has been singled out as the main culprit -- in fact, "overall, 152 different THC-containing product brands were reported" as being used by patients prior to their illness, the agency noted.
Still, certain brands seem especially tied to the outbreak.
"Dank Vapes, a class of largely counterfeit THC-containing products of unknown origin, was the most commonly reported product brand used by patients nationwide," the CDC said, although this brand was most implicated in cases arising in the Northeast and South.
"TKO and Smart Cart brands were more commonly reported by patients in the West, and Rove was more common in the Midwest," the CDC said.
The illnesses that are affecting vapers can be sudden and severe. Symptoms include cough, shortness of breath and chest pains. Some patients have had so much trouble breathing that they wind up on oxygen, and in extreme cases are placed on a mechanical ventilator.
The chemical culprit behind the illnesses is also becoming more certain, the CDC said.
Evidence is building that a compound known as vitamin E acetate, present in many "black market" vape products, especially those containing marijuana-derived THC, could be to blame.
In its update last week, the CDC noted that lung fluid samples from current patients "identified vitamin E acetate, an additive in some THC-containing e-cigarette, or vaping, products" as being present.
"Fluid samples from 29 patients submitted to CDC from 10 states found vitamin E acetate in all of the samples," the agency noted. "This is the first time that we have detected a chemical of concern in biologic samples from patients with these lung injuries. These findings provide direct evidence of vitamin E acetate at the primary site of injury within the lungs."
Testing done on other common vape ingredients -- things such as plant oils, petroleum distillates like mineral oil, MCT oil, and terpenes -- have shown no role in the illness outbreak.
New forms of vaping-related illness are also emerging. On Nov. 25 , doctors reported the first known case of a serious case of what's known as "popcorn" lung, observed in a Canadian teen. The illness involves inflammation and obstruction of the small airways in the lungs.
And last Thursday, a report emerged describing the case of a 49-year-old California woman who vaped marijuana and then came down with hard-metal pneumoconiosis or "cobalt lung." That's a form of pneumonia that's normally associated with exposure to hard metals in industrial settings.
Based on the rising rate of lung illnesses among people who vape, the CDC is discouraging the use of all e-cigarettes.

Copyright © 2019 HealthDay. All rights reserved.
SLIDESHOW
See Slideshow
Health Solutions
From Our Sponsors
References
SOURCES: news releases, U.S. Centers for Disease Control and Prevention