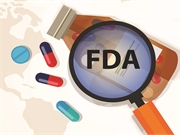 TUESDAY, Nov. 26, 2019 (HealthDay News) -- Oxbryta (voxelotor) has been granted accelerated approval for the treatment of sickle cell disease in patients ages 12 years and older, the U.S. Food and Drug Administration announced Monday.
Oxbryta is the first approved treatment for sickle cell disease that directly inhibits the root cause of the disease, sickle hemoglobin polymerization, according to a company press release. Nonclinical studies of Oxbryta have shown the drug inhibits red blood cell sickling and improves red blood cell deformability and the ability of blood to flow. The recommended dosage of Oxbryta is 1,500 mg orally once daily with or without food. For severe hepatic impairment, the recommended dosage is 1,000 mg orally once daily.
Approval of Oxbryta was based on clinical data from the HOPE Study of 274 patients with sickle cell disease who received 1,500 or 900 mg of Oxbryta (90 and 92 patients, respectively) or placebo (92 patients). After 24 weeks of treatment, 51.1 percent of patients who received 1,500 mg of Oxbryta achieved an increase of greater than 1 g/dL in hemoglobin response rate compared with 6.5 percent of patients who received placebo.
Commonly reported side effects with Oxbryta include headache, diarrhea, abdominal pain, nausea, fatigue, rash, and fever.
Approval was granted to Global Blood Therapeutics. The drug is expected to be available through a specialty pharmacy partner network within two weeks.

Copyright © 2019 HealthDay. All rights reserved.
QUESTION
See Answer
Health Solutions
From Our Sponsors