Latest Prevention & Wellness News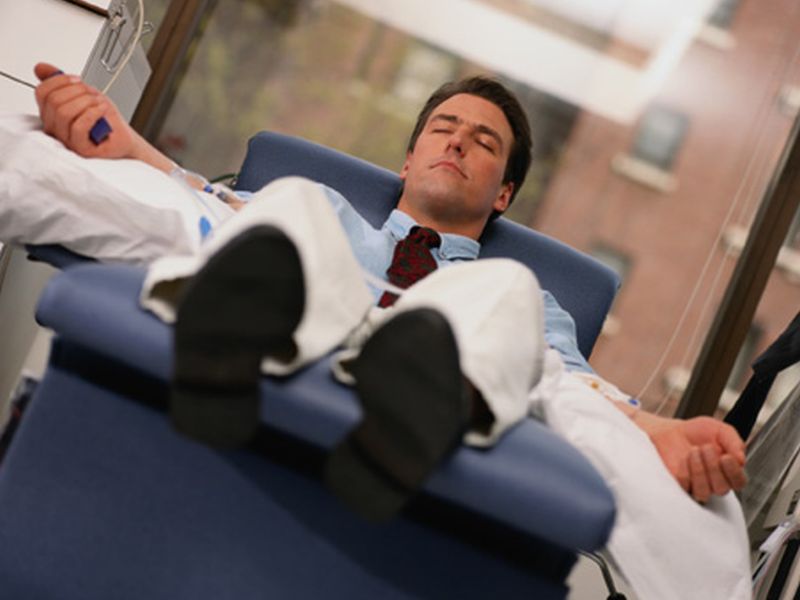 THURSDAY, May 16, 2019 (HealthDay News) -- There's a severe nationwide shortage of Type O blood, and the American Red Cross has issued an urgent appeal for donations.
The current supply of Type O blood is critically low: Six units are available for every 100,000 people in the United States, but at least twice as much is required every day.
Type O-negative is the universal blood type (anyone can receive it), making it the one most needed in hospitals. Only 7% of people have Type O-negative blood.
"[It is] what emergency room personnel reach for in the most serious situations when there is not time to determine a patient's blood type; and Type O-positive blood can be transfused to any positive blood type patient and is also critical in trauma situations," said Dr. Pampee Young, chief medical officer of Red Cross Biomedical Services.
"We are asking donors to give blood as soon as possible to ensure patient needs can be met in the days and weeks ahead," Young said in a Red Cross news release.
Donations of Type O blood were down by about 11,500 last month because spring break and end-of-school activities reduced the number of scheduled blood drives in communities, according to the Red Cross.
May is Trauma Awareness Month and the Red Cross is asking platelet and blood donors of all types to give now to help save the lives of trauma patients and others who need blood products.
You can schedule an appointment for blood donation by calling 1-800-RED CROSS, visiting the Red Cross website, or by using the Blood Donor App.
On an Alexa-enabled device, use a prompt such as "Alexa, open Red Cross Blood Skill" and then ask "Alexa, find a blood drive."
In most states, people who are age 17 and older, weigh at least 110 pounds and are in generally good health may be eligible to donate blood. Some states allow 16-year-olds to donate, with parental consent. High school students and other donors 18 and younger also have to meet height and weight requirements.
People who donate blood or platelets between May 1 and June 10 will receive a $5 Amazon.com gift card via email. Those who give between May 24 and May 28 will receive a Red Cross-branded T-shirt, while supplies last.
-- Robert Preidt

Copyright © 2019 HealthDay. All rights reserved.
SLIDESHOW
See Slideshow
Health Solutions From Our Sponsors
References
SOURCE: American Red Cross, news release