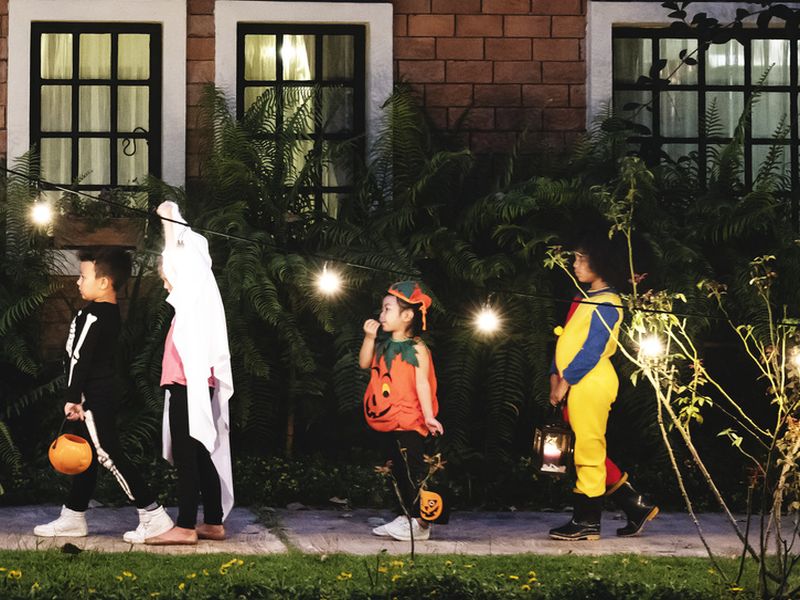 By Steven Reinberg
HealthDay Reporter
TUESDAY, Oct. 30, 2018 (HealthDay News) -- Trick-or-treating is a Halloween tradition that can quickly turn disastrous, with new research showing a more than 40 percent spike in pedestrian deaths on the spooky holiday.
Kids wearing dark costumes, zigzagging across streets and popping out between parked cars are potentially tragic targets for drivers rushing home after work, explained study author Dr. Donald Redelmeier. He is a researcher at the University of Toronto's Institute for Clinical Evaluative Sciences.
"On Halloween, there is a 43 percent increased risk of a pedestrian death -- about four extra children are killed trick-or-treating," he said.
More boys than girls are killed, Redelmeier said. That's because boys often wear dark costumes -- "pedestrian ninjas," he calls them.
The time when most deaths occurred was 6 p.m. That's when the really young kids are out and some folks are rushing home from work, he explained.
Children between the ages of 4 and 8 had the highest risk of being accidentally struck by a vehicle, the findings showed, and a lot more children are injured than killed.
"Our study only looked at deaths," Redelmeier said. "For every child who dies, there's probably one or two dozen children who are run over, survive, but are left with all sorts of disabilities."
But all these deaths and injuries could be prevented, he added.
Here's a few quick tips to follow:
Look both ways before crossing the street.
Don't get distracted by your smartphone.
Instead of crisscrossing streets, go to houses on one side, and then the other -- so you're only crossing the street once.
Have reflectors or flashing lights on your kids' costumes.
Worry a lot more about road safety and a lot less about hidden dangers like razorblades in your child's candy bag.
Drivers need to slow down in residential neighborhoods.
Dr. Barbara Pena, research director of the emergency medicine department at Nicklaus Children's Hospital in Miami, said she sees more injuries on Halloween.
"We see big increases in trauma because all these kids are walking around in dark costumes at night," Pena said. "We always have to stack the emergency department with extra people because we see a jump in injuries."
Pena also thinks that communities can help by closing streets so kids can trick-or-treat safely. In addition, parents need to keep a tight leash on their kids to prevent accidents and deaths.
Using data from the National Highway Traffic Safety Administration, Redelmeier and his colleagues looked at the number of pedestrian deaths on Oct. 31, from 1975 to 2016. They focused on the hours between 5 p.m. and midnight.
The investigators compared these deaths with those occurring during the same time period on Oct. 24 and Nov. 7.
Over 42 years, 608 pedestrians died on the 42 Halloween evenings, while 851 died on the 84 other evenings used for comparison.
The absolute death rates averaged 2.07 per hour on Halloween and 1.45 on other evenings, the researchers found.
The absolute risk of pedestrian deaths per 100 million Americans was small, Redelmeier's team noted. And that rate dropped from 5 to less than 3 deaths per 100 million Americans during the years between 1975 and 2016.
According to Maureen Vogel, a spokeswoman for the National Safety Council, "There's no reason to keep kids from trick-or-treating. There's just more reason, in light of this study and others, to be aware of your surroundings and exercise caution."
The report was published online Oct. 30 in the journal JAMA Pediatrics.

Copyright © 2018 HealthDay. All rights reserved.
SLIDESHOW
See Slideshow
Health Solutions From Our Sponsors
References
SOURCES: Donald Redelmeier, M.D., researcher, Institute for Clinical Evaluative Sciences, and professor, medicine, University of Toronto, Ontario, Canada; Barbara Pena, M.D., research director, emergency medicine, Nicklaus Children's Hospital, Miami; Maureen Vogel, spokeswoman, National Safety Council; Oct. 30, 2018, JAMA Pediatrics, online