Latest Prevention & Wellness News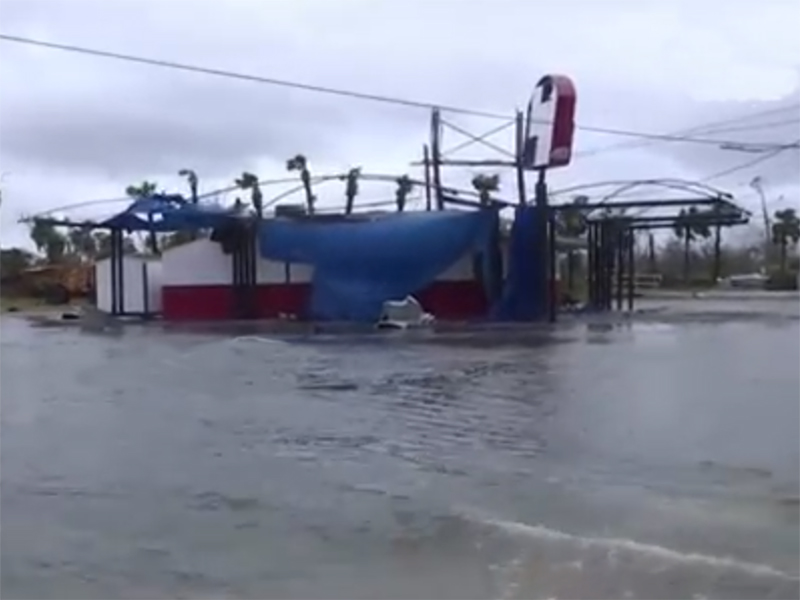 By E.J. Mundell
HealthDay Reporter
THURSDAY, Oct. 11, 2018 (HealthDay News) -- Images of the destruction wrought by Hurricane Michael in the Florida Panhandle are gripping the nation. And with massive rainfall and 13-foot storm surges, flooding is a major danger as the storm tracks northward.
"Floodwater places virtually all people at risk for drowning, even for experienced swimmers," warned Dr. Robert Glatter, an emergency physician at Lenox Hill Hospital in New York City. "Fast-moving water can be lethal, and even shallow-appearing water can be deadly for toddlers and small children."
He stressed that trying to outrun the storm has its own dangers.
"It's important to realize that vehicles do not guarantee sufficient protection from fast-moving floodwaters, as it's possible to stall out or be swept away in fast-moving water," Glatter said.
He added that the storm surge associated with a hurricane is particularly dangerous, especially if you live near the ocean, lakes or streams, which can rapidly overflow and lead to drowning.
One potentially lifesaving tip: "Never drive into a standing pool of water on a road after a hurricane, as the water may rise rapidly and trap you in your vehicle," Glatter said.
Already, at least two people have died due to Michael -- a man from Greensboro, Fla., was killed when a tree crashed onto his home, and a girl in Seminole County, Ga., died when debris hit her home, The New York Times reported. Winds from the category 4 storm have topped 150 miles per hour.
"It's vital to respect this dangerous time, and make plans to stay abreast of news alerts and keep in touch with family," Glatter said.
The aftermath of serious flooding brings other hazards, he said.
Flooded areas pose risks for fire hazards or electrical injury associated with downed power lines. "Never approach a downed power line, as the risk of being electrocuted always exists," Glatter said. If you come upon one, contact the power company.
Floods may also increase the spread of waterborne diseases, including cholera, typhoid fever, hepatitis A, as well as leptospirosis.
"While most floods do not result in serious outbreaks of infectious disease or chemical toxicity, they can result in bacterial and viral infections involving the lung and GI tract in those who are exposed to contaminated floodwater," Glatter explained.
Waterborne infection may occur after washing, drinking or bathing in contaminated water, or by eating infected food. It's essential to boil all water for bathing, brushing your teeth or drinking after a flood, the ER doctor said. Bottled water is the safest bet.
"Use only bottled water until the water supply is declared safe," Glatter said.
Hurricane Michael is tracking northward through the Carolinas, before it will make its way to the Atlantic Ocean.
For anyone who still has time to evacuate, Glatter offered this advice:
Have a family communications plan in case you get separated during the storm. Take your cellphone, and if it uses replaceable batteries, take extras.
Carry a one- to two-week supply of any prescription medications. (Diabetics should keep extra insulin on hand, as well as a ready supply of snacks in case their sugar level drops. Store insulin or any liquid antibiotics on ice or cold packs during power failures. Have a list of your doctors with their contact information.
Patients who use a CPAP machine for sleep apnea or COPD may need an alternative power source during the storm. This includes a CPAP battery pack or marine battery adapters in case of electrical outage.
Take bottled water (at least 1 gallon daily per person for three to seven days).
Pack enough nonperishable food for three to seven days.
Take a flashlight with extra batteries, road maps, basic tools (pliers, wrench, duct tape), cash and coins, sleeping bags.
Store important documents in a water-resistant container or plastic bag.
Pack a first aid kit with ibuprofen, acetaminophen, antacids, adhesive tape, Benadryl (for any allergic reactions), motion-sickness medicine, alcohol wipes, forceps and tweezers, instant cold packs, bandage scissors, sterile gauze, elastic wraps, antiseptic solution, adhesive bandages, triple antibiotic ointment, exam gloves, gauze sponges (4 inch-by-4 inch), butterfly tape, sterile saline, hydrogen peroxide, and thermometer with extra batteries.
For infants, have plenty of diapers and wipes available, as well as formula, powdered milk and extra sanitized bottles.
Take along an extra pair of contact lenses or eyeglasses with cleaner.

Copyright © 2018 HealthDay. All rights reserved.
QUESTION
See Answer
Health Solutions
From Our Sponsors
References
SOURCES: Robert Glatter, M.D., emergency physician, Lenox Hill Hospital, New York City; The New York Times