Latest Infectious Disease News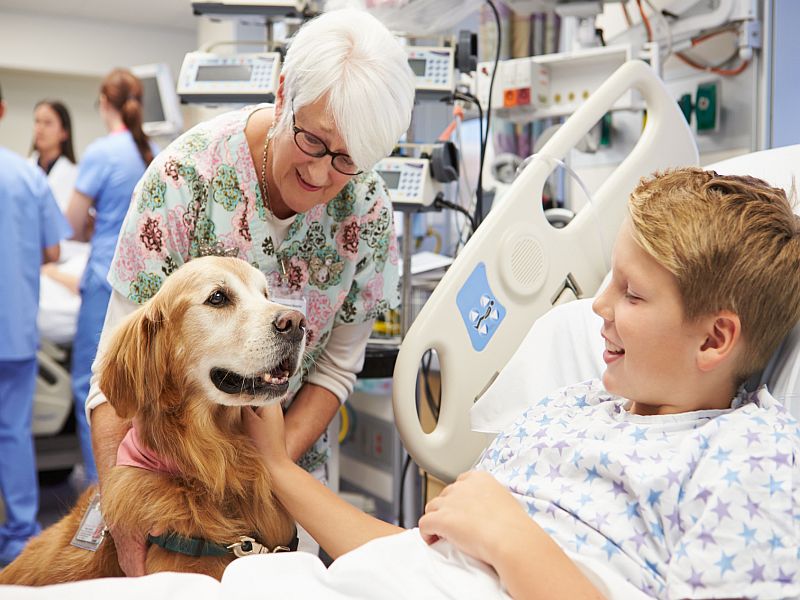 WEDNESDAY, Oct. 10, 2018 (HealthDay News) -- While therapy dogs can help ease anxiety for kids with cancer, they may also carry antibiotic-resistant bacteria that can put patients at risk for serious infections.
Cleaning the dogs with antibacterial shampoo and wipes reduces that risk, according to researchers.
The new study included therapy dogs that visit kids receiving outpatient cancer treatment at Johns Hopkins Bloomberg Children's Hospital in Baltimore. The dogs do several one-on-one and group visits each day, often going to different departments or other hospitals.
"It's amazing to watch just how excited the children get when they see the dogs for the first time, and they enjoy petting, hugging, kissing and playing fetch with them. The visits are really helpful in easing their anxiety and stress," said study author Kathryn Dalton.
"But because they go from session to session, the dogs can pick up and spread MRSA (methicillin-resistant Staphylococcus aureus)," Dalton added. She's a doctoral candidate in the department of environmental health and engineering at Johns Hopkins University Bloomberg School of Public Health.
MRSA can cause a staph infection that is resistant to many common antibiotics. The risk is higher for people whose immune systems are weakened, such as cancer patients.
The research team found that shampooing the dogs with the antibiotic chlorhexidine before their first visit of the day and using chlorhexidine wipes every five to 10 minutes during visits reduced the risk that the dogs would pick up and spread MRSA to the patients.
The study was presented Oct. 5, in San Francisco, at ID Week, a joint meeting of the Infectious Diseases Society of America, the Society for Healthcare Epidemiology of America, the HIV Medicine Association and the Pediatric Infectious Diseases Society.
"This simple, low-cost intervention helps increase patient safety while still ensuring that young patients with cancer can benefit from these therapy dogs," Dalton said in a meeting news release.
The study included 45 cancer patients, aged 2 to 20, and four therapy dogs. After seven sessions in which the dogs were not treated with chlorhexidine, four patients (15 percent) became MRSA carriers, as did three dogs (43 percent).
In six sessions in which chlorhexidine was used on the dogs, one patient (4.5 percent) became a MRSA carrier, as did two dogs (33 percent), the findings showed.
When the dogs weren't treated with the antibiotic, patients who had close interactions with them (petting, hugging, brushing their fur and spending more time) were six times more likely to become MRSA carriers than those who didn't, the study found.
But chlorhexidine eliminated that difference, the researchers reported.
Research presented at medical meetings should be considered preliminary until it has been published in a peer-reviewed journal.
-- Robert Preidt

Copyright © 2018 HealthDay. All rights reserved.
SLIDESHOW
See Slideshow
Health Solutions From Our Sponsors
References
SOURCE: ID Week, news release, Oct. 5, 2018