Latest High Blood Pressure News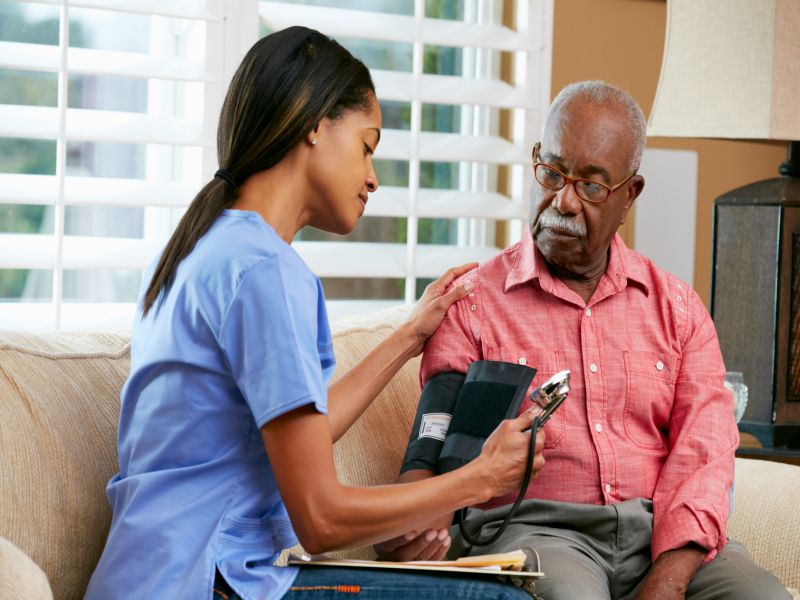 By Serena Gordon
HealthDay Reporter
FRIDAY, Sept. 7, 2018 (HealthDay News) -- A sudden, severe surge in blood pressure is known as a hypertensive crisis, and new research suggests that black people are far more likely to experience this potentially deadly condition.
High blood pressure "is an unnecessary scourge on African Americans. The prevalence of hypertensive crisis is five times higher in African Americans than in the general population," said study author Dr. Frederick Waldron. He is an emergency medicine physician from Newark Beth Israel Medical Center in New Jersey.
The American Heart Association defines a hypertensive crisis as a blood pressure reading of more than 180/120 mm Hg. When blood pressure rises that high, it can cause organ damage, kidney failure, heart failure, stroke and bleeding in the brain, according to Waldron.
The new study looked at three years of data on people with high blood pressure who came to Waldron's emergency department. The study included nearly 1,800 people with a blood pressure reading higher than 200/120 mm Hg.
Waldron compared those with hypertensive crisis to almost 14,000 people with high blood pressure that wasn't high enough to be considered a hypertensive crisis.
Almost 90 percent of those in hypertensive crisis were black. White people made up 2 percent, while other races made up 9 percent of those with the high blood pressure condition.
One in four of those in hypertensive crisis went on to develop life-threatening organ failure, stroke, heart failure, heart attack or kidney failure, the findings showed.
The researchers didn't find a link between hypertensive crises and insurance status. Access to a primary care doctor also didn't seem to play a role in who developed a hypertensive crisis.
Waldron said there was no indication that underlying biology might play a role. Instead, he thinks the biggest factor in the difference is people not taking their medications.
"We couldn't determine the rate of adherence to medications in our studies, but in previous studies, medication compliance in African Americans is less than 40 percent," Waldron said.
"We don't need new medications. We don't need a high-tech solution. We need a community solution," he suggested.
It can be difficult to get people to take medications every day when they don't have any symptoms. And, it takes about 20 years of high blood pressure to develop the type of damage that can cause organ failure, he explained.
Dr. Kevin Marzo, chief of the division of cardiology at NYU Winthrop Hospital in Mineola, N.Y., said this study "raises societal health care issues, and shows we may need different levels of care specific for certain communities."
Both experts said researchers are trying to come up with unique solutions for this problem. Waldron signaled out a study that looked at a church that purchased a bus to take its parishioners to clinics.
"Sometimes, not being able to get to medical care is the reason for compliance issues," Waldron said.
Marzo noted another study that brought pharmacists into barbershops to check people's blood pressure and help them with their medications.
"We need to develop ways to make sure that populations at risk of hypertensive crisis have access to providers, and have providers they're comfortable with to keep people healthy and out of the hospital," Marzo said.
In addition to medications, Waldron also emphasized the importance of healthy lifestyle choices in controlling high blood pressure. He recommended quitting smoking, limiting alcohol, eating a healthy diet and getting regular exercise.
The findings were to be presented Friday at an American Heart Association meeting in Chicago. Research presented at meetings should be viewed as preliminary until published in a peer-reviewed journal.

Copyright © 2018 HealthDay. All rights reserved.
SLIDESHOW
See Slideshow
Health Solutions From Our Sponsors
References
SOURCES: Frederick Waldron, M.D., MPH, emergency medicine physician and community research, Newark Beth Israel Medical Center, Newark, N.J.; Kevin Marzo, M.D., chief, division of cardiology, NYU Winthrop Hospital, Mineola, N.Y.; Sept. 7, 2018, presentation, American Heart Association meeting, Chicago