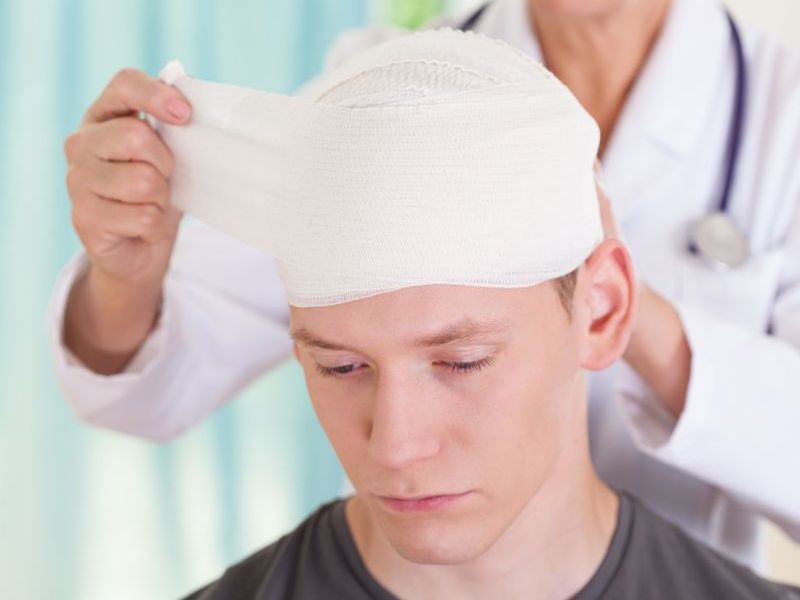 By Amy Norton
HealthDay Reporter
THURSDAY, July 12, 2018 (HealthDay News) -- Young athletes with attention-deficit/hyperactivity disorder (ADHD) might be at higher risk of developing depression and anxiety symptoms after a concussion, a preliminary study suggests.
The study, of nearly 1,000 college athletes, found those with both ADHD and a history of concussion scored higher on measures of depression and anxiety. That was in comparison to athletes without ADHD and those with the disorder but no history of concussion.
ADHD is a brain disorder linked to impulsivity and inattention. The study findings don't prove it makes athletes prone to lingering mental health effects after a concussion, however.
The athletes were evaluated at one time-point, said lead researcher Robert Davis Moore, of the University of South Carolina. So it's possible that those with ADHD and a past concussion had higher depression and anxiety levels before the head injury.
"This study is a starting point," Moore said. "It tells us this is something that requires longitudinal studies."
He was referring to studies that would follow athletes over time, to see whether those with ADHD are more vulnerable to lingering effects if they do sustain a concussion.
Dr. Michael Goldstein is a fellow of the American Academy of Neurology who was not connected to the study.
He agreed the findings do not prove a cause-and-effect relationship, but raise questions for further studies -- such as whether athletes with ADHD might be more "sensitive" to other concussion symptoms.
Goldstein said it's too early to know whether athletes with ADHD should take any special action to manage a concussion.
Each year, close to 330,000 U.S. children and teens land in the emergency department for head injuries related to sports or play, according to the U.S. Centers for Disease Control and Prevention.
Since both ADHD and concussions are common, Moore said, it's important to know whether ADHD might make young athletes more vulnerable to lingering effects from the head injury.
The more immediate symptoms of concussion include headache, dizziness, nausea, fatigue and confusion. Typically, they improve within a few days, according to the CDC. But for some people, recovery takes weeks or months, and emotional symptoms like sadness and anxiety can arise.
Moore said there is evidence athletes with ADHD are more prone to sustaining concussions. But it hasn't been clear whether they are vulnerable to depression or anxiety symptoms.
For the new study, Moore's team evaluated 979 athletes at its university, dividing them into four groups: those with ADHD and a past concussion; those with ADHD and no concussion history; those with a past concussion and no ADHD; and those free of both conditions.
In general, the study found, athletes with both conditions scored higher on questionnaires that gauge depression and anxiety symptoms.
On average, their depression score was a 26, versus 16 in the other three groups. And they scored a 42 on the anxiety scale, versus 33 in the other groups.
Those average scores did not hit the range necessary for a diagnosis of major depression or clinical anxiety, Moore said. But they indicate a higher risk.
Why would athletes with ADHD be vulnerable? It's possible they have a harder time dealing with the stress of being sidelined during their recovery -- and falling behind on schoolwork.
SLIDESHOW
See Slideshow
But Moore doubted that explanation in this group. "All of the athletes in this study were currently involved in their sport, and in good academic standing," he said.
Also, he noted, athletes with ADHD and a past concussion did not differ from other athletes with ADHD when it came to "trait" anxiety. That refers to a person's natural tendency to become anxious in the face of stressors.
Instead, Moore said, the findings might reflect an effect of the brain injury itself.
However, he also stressed that the results should not alarm athletes with ADHD and their parents.
"Don't panic," Moore said. "This doesn't mean that if you sustain a concussion, you're destined to have long-term depression or anxiety."
Still, athletes with ADHD might need more careful monitoring during concussion recovery, he advised.
Moore suggested a full mental-health evaluation after a concussion, including a follow-up when the athlete returns to the game.
The findings are scheduled for presentation next week at an American Academy of Neurology conference in Indianapolis. Studies presented at meetings are generally considered preliminary until published in a peer-reviewed journal.

Copyright © 2018 HealthDay. All rights reserved.
From
Health Solutions
From Our Sponsors
Health Solutions
From Our Sponsors
References
SOURCES: Robert Davis Moore, Ph.D., M.S., assistant professor, exercise science, University of South Carolina, Columbia; Michael Goldstein, M.D., fellow, American Academy of Neurology; presentation, American Academy of Neurology sports concussion conference, Indianapolis, July 20-22, 2018