Latest Infectious Disease News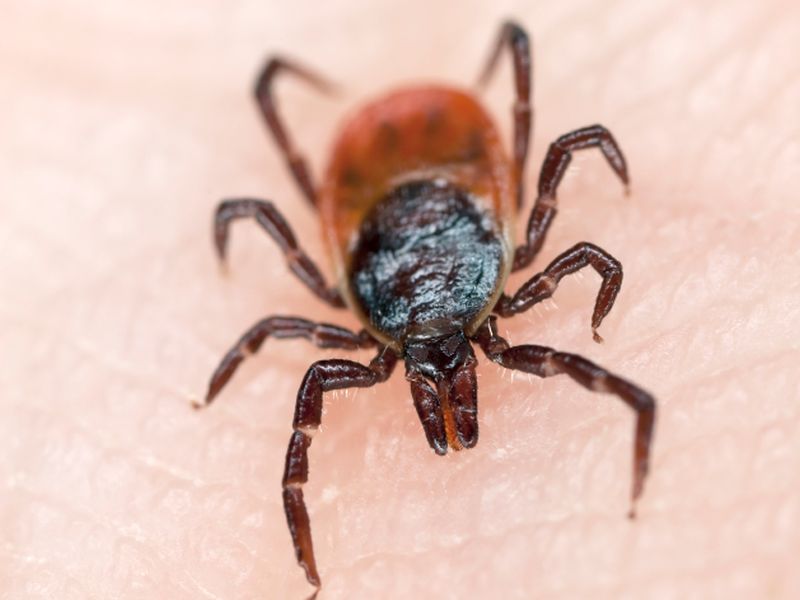 By Dennis Thompson
HealthDay Reporter
TUESDAY, May 1, 2018 (HealthDay News) -- Diseases transmitted by biting insects -- ticks and mosquitoes in particular -- have more than tripled in the United States over the past decade, a new federal government report shows.
These pests caused more than 96,000 cases of illness in 2016, up from roughly 27,388 in 2004 and part of a continuing increase in insect-borne diseases, CDC researchers said.
"Zika, West Nile, Lyme and chikungunya -- a growing list of diseases caused by the bite of an infected mosquito, tick or flea -- have confronted the U.S. in recent years, making a lot of people sick. And we don't know what will threaten Americans next," CDC Director Dr. Robert Redfield said in a statement.
Several factors are likely behind the increase, researchers said.
Mosquitoes and ticks are increasing in number and moving into new areas, carrying with them the diseases they transmit through their bite, the report said.
For example, Aedes aegypti -- the mosquito most responsible for transmitting Zika -- has now expanded its range into as many as 38 states, the report found.
Overseas travel also is contributing to the increase, with travelers picking up insect-borne illnesses in other lands and bringing them back to the United States.
Further, nine new germs spread by mosquitoes and ticks have been discovered or introduced since 2004, seven of those in ticks alone.
"The data show that we're seeing a steady increase and spread of tick-borne diseases, and an accelerating trend of mosquito-borne diseases introduced from other parts of the world," Dr. Lyle Petersen, director of the Division of Vector-Borne Diseases in the CDC's National Center for Emerging and Zoonotic Infectious Diseases, said in a statement.
For their study, CDC scientists analyzed reports of 16 insect-borne diseases logged to the U.S. National Notifiable Diseases Surveillance System between 2004 and 2016.
The most common tick-borne diseases in 2016 were Lyme disease and ehrlichiosis, a serious illness that infects white blood cells. West Nile, dengue and Zika were the most common mosquito-borne germs.
Overall, the researchers tallied a little more than 642,600 cases of disease transmitted by insect bites between 2004 and 2016.
Tick-borne diseases alone more than doubled during that time frame, and accounted for more than 3 of every 5 cases of insect-transmitted disease in the United States. The diseases they carry vary by region, and those regions are expanding.
Tick-borne diseases are mainly found in the eastern continental United States and areas along the Pacific coast, the researchers said.
West Nile virus, the major mosquito-borne disease in the continental United States, can be found widely distributed across the country. Dengue, chikungunya and Zika viruses were almost exclusively transmitted in Puerto Rico, American Samoa and the U.S. Virgin Islands.
Though rare, plague was the most common disease resulting from the bite of an infected flea.
The findings were published May 1 by the CDC as a Vital Signs report.
State and local health departments and vector control organizations need help combating the spread of these pests, the report concluded.
With added support, these agencies can better test for and track diseases and pests, train staff to conduct prevention and control activities, and educate the public on how to prevent bites, the researchers said.
The Infectious Diseases Society of America (IDSA) seconded that conclusion, calling for more federal funding of research into the development of new vaccines to battle these diseases.
"Vector-borne diseases such as Lyme disease and Zika virus disease can devastate patients and their families, causing significant suffering," said Dr. Paul Auwaerter, president of the IDSA. "Time and again, we see patients seeking care that will help ease their suffering. Like our patients, we are looking for answers, too."
Dr. Robert Glatter, an emergency physician with Lenox Hill Hospital in New York City, added that people also need to protect themselves from mosquito and tick bites in the first place.
"This includes wearing long-sleeved shirts and long pants, and making sure you use a proper insect repellent, especially when walking in wooded and grassy areas, where the risk for tick bites is significantly increased," Glatter said. "It's also advisable to apply a repellent such as permethrin to socks, boots, pants and tents, to further repel ticks.
"After spending time in wooded areas or in parks, always make sure to inspect yourself and your family for ticks," Glatter continued. "Make sure to look in warm, hidden places including armpits, nape of the neck, your belly button, pubic areas and behind your knees. Also check between fingers and toes, bottoms of your feet and your ankles, scalp, behind your ears and under breasts."
SLIDESHOW
See Slideshow
People with pets should regularly inspect the animals to make sure they aren't carrying ticks that can be brought indoors, Glatter said.

Copyright © 2018 HealthDay. All rights reserved.
From
Infectious Disease Resources
Health Solutions
From Our Sponsors
Health Solutions
From Our Sponsors
References
SOURCES: Robert Glatter, M.D., emergency physician, Lenox Hill Hospital, New York City; Paul Auwaerter, M.D., president, Infectious Diseases Society of America; May 1, 2018, Vital Signs report