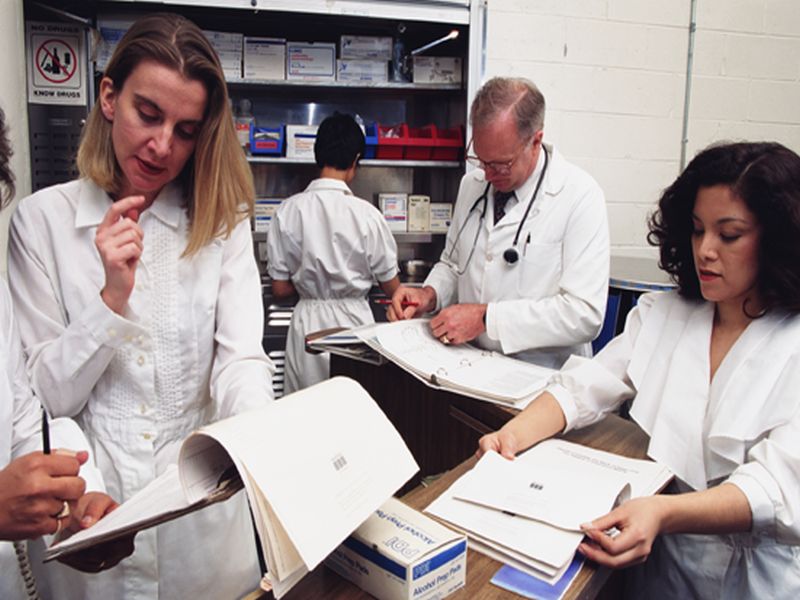 FRIDAY, March 30, 2018 (HealthDay News) -- Many emergency room doctors underestimate how often they prescribe potentially addictive opioid painkillers, new research shows.
But they pare back those pills when they see their real numbers, according to the University of Colorado study.
Of 109 ER doctors at four hospitals, two-thirds underestimated how often they prescribed opioids such as OxyContin (oxycodone) and Vicodin (hydrocodone), the researchers said.
As health experts struggle to understand the underpinnings of the U.S. opioid epidemic, they've found that legally prescribed pills got many addicts initially hooked.
"Most [prescribers] believe they are doing the right thing, but we need to directly address this thinking to be sure they are not part of the problem," said study author Dr. Sean Michael.
During the 12-month study, the ER doctors wrote 15,124 prescriptions for opioids. This represented about 20 percent of all their prescribing.
After showing the doctors their actual opioid prescription rates, the researchers tracked their prescribing patterns going forward.
"Everyone showed an overall decrease in prescribing opioids," said Michael, an assistant professor of emergency medicine at the University of Colorado School of Medicine.
After seeing their real data, the doctors with inaccurate self-perceptions, on average, had about 2 fewer opioid prescriptions per 100 patients six months and 12 months later, Michael said in a university news release.
Michael noted that ER doctors write only about 5 to 10 percent of all opioid prescriptions. High rates of opioid prescribing occur throughout the U.S. health care system.
"Despite making progress on the opioid epidemic, we can't assume providers are behaving optimally and have all the information they need to do what we are asking of them," Michael said.
The study was published in the March issue of the journal Academic Emergency Medicine.
-- Robert Preidt

Copyright © 2018 HealthDay. All rights reserved.
QUESTION
See Answer
Health Solutions
From Our Sponsors
References
SOURCE: University of Colorado, news release, March 27, 2018