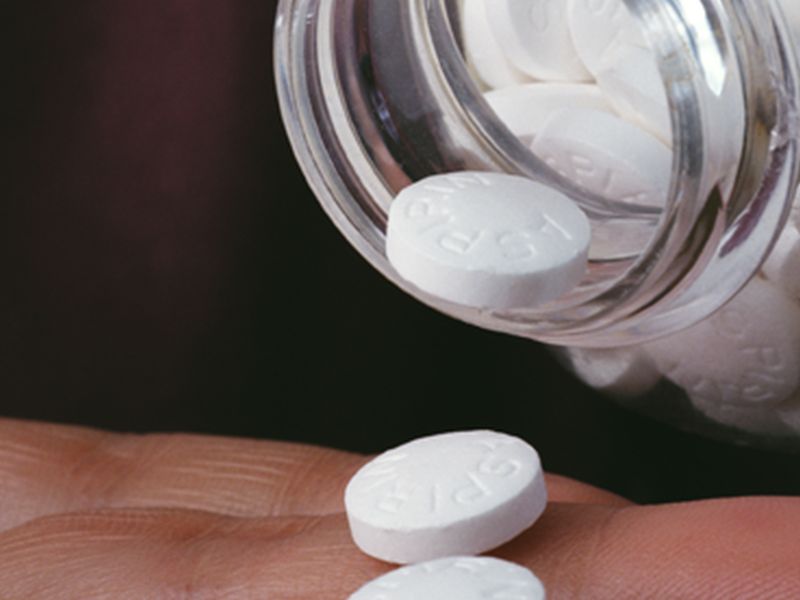 THURSDAY, March 1, 2018 (HealthDay News) -- For people who have both type 2 diabetes and heart failure, new research offers a mixed message on taking a daily low-dose aspirin.
The study found the daily pill can reduce the risk for heart failure-related hospitalization and death in people who have both conditions. However, it also found that a daily aspirin raises their risk for nonfatal heart attack and stroke.
The findings came from the analysis of data from more than 12,000 residents of the United Kingdom, 55 and older. They all had heart failure and type 2 diabetes, but no history of heart attack, stroke, peripheral artery disease or the heart rhythm disorder atrial fibrillation.
During a five-year span, those who took a low-dose aspirin a day were 10 percent less likely to have been hospitalized or to have died because of heart failure than those who did not. But they were 50 percent more likely to have had a nonfatal heart attack or stroke.
Aspirin is a blood thinner that reduces the risk for blood clots. Both heart failure and diabetes increase the risk for blood clots that can lead to heart attack and stroke. About 27 million people in the United States have type 2 diabetes, and about 6.5 million U.S. adults have heart failure, the researchers said.
Though a low-dose daily aspirin is recommended for people who've had a heart attack or stroke, its use as a preventive treatment in people with heart risk factors but no history of heart attack or stroke is unclear, according to the study authors.
The findings are to be presented March 11 at a meeting of the American College of Cardiology, in Orlando, Fla.
Some studies have even suggested that daily aspirin might be harmful for people with heart failure, the researchers noted.
Lead author Dr. Charbel Abi Khalil said his team was surprised to find that taking a low-dose daily aspirin increased the risk for nonfatal heart attack and stroke among the study participants.
"This finding might be due to the fact that those patients lived longer," he said in a meeting news release. "Given their mean age of 70 years, perhaps these patients were predisposed to more cardiac events."
Abi Khalil is an assistant professor of medicine at Weill Cornell Medicine in Qatar.
He urged people to talk with their doctors to assess the possible benefits and risks of taking a daily aspirin.
Research presented at meetings should be considered preliminary because it has not been subjected to the scrutiny given to research published in medical journals.
-- Robert Preidt

Copyright © 2018 HealthDay. All rights reserved.
QUESTION
See Answer
Health Solutions
From Our Sponsors
References
SOURCE: American College of Cardiology, news release, Feb. 28, 2018