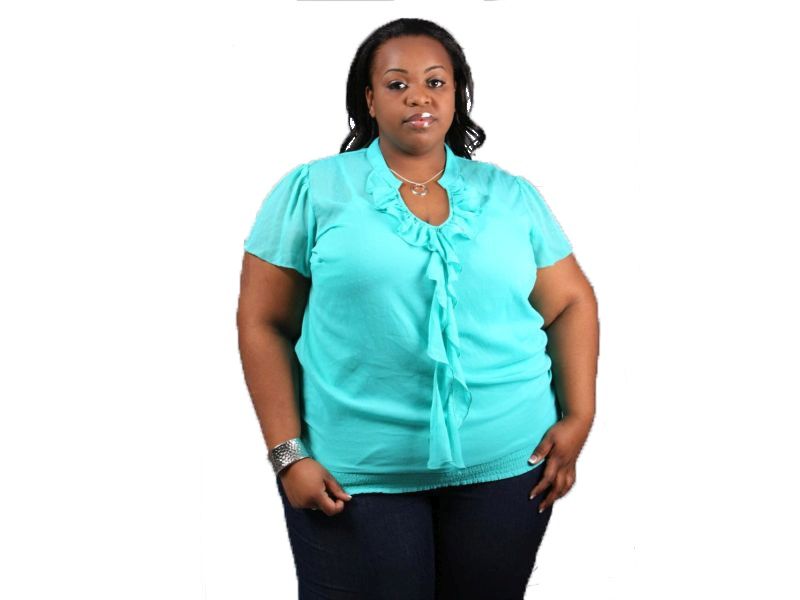 By Steven Reinberg
HealthDay Reporter
WEDNESDAY, Feb. 28, 2018 (HealthDay News) -- Excess belly weight -- a so-called apple shape -- raises a woman's risk for heart attack even more than overall obesity, researchers report.
While obesity raises heart attack risk in both sexes, women with bigger waists and waist-to-hip ratios have greater odds for a heart attack than men who have a similar apple-shaped body, a large British study finds.
"Our findings show that looking at how fat tissue is distributed in the body -- especially in women -- can give us more insight into the risk of heart attack than general measures of obesity, such as body mass index," said lead researcher Sanne Peters. Body mass index (BMI) is a commonly used measurement based on height and weight.
Having a pear-shaped body -- a smaller waist with excess weight mostly around the hips -- isn't thought to raise heart attack risk to the same degree.
Currently, no medical treatment focuses on excess belly fat, said Peters, a research fellow in epidemiology at the University of Oxford's George Institute for Global Health.
However, "more intensive screening for the risk of cardiovascular disease and diabetes among those with an apple shape might help to prevent heart disease, especially in women," Peters said.
According to the World Health Organization, 40 percent of women worldwide are overweight and 15 percent are obese.
Obesity increases the risk for heart attack, the leading cause of death worldwide, the researchers noted. Obesity also raises your odds for stroke, high blood pressure, diabetes and some cancers.
For the new study, Peters and colleagues collected data on nearly 500,000 adults in the United Kingdom, aged 40 to 69, and followed them for seven years.
The investigators found that waist-to-hip ratio and waist circumference, respectively, were 15 percent and 7 percent more strongly tied to heart attack risk in women than men.
Also, compared with BMI, waist-to-hip ratio was an 18 percent stronger predictor of heart attack in women and a 6 percent stronger predictor of heart attack in men, the findings showed.
However, the biological factors that contribute to the increased risk for heart attack aren't known, Peters said.
Further research is needed to try to determine the different ways women and men store body fat, and to understand how exactly this is linked to different health risks, she said.
"Knowing exactly how patterns of fat storage influence the risk of obesity-related conditions will yield insights into the biological mechanisms and could inform sex-specific interventions that might halt the obesity epidemic worldwide," Peters said.
One specialist believes women must act quickly to reverse weight gain around the waist in order to reduce the risk of heart disease.
"We have had similar data in the United States that belly fat is a risk marker for heart disease," said Dr. Nieca Goldberg, a spokeswoman for the American Heart Association.
Goldberg said she thinks fat accumulation in the gut is linked with inflammation and insulin resistance. Both can lead to heart disease and heart attacks, she noted.
It's possible that the risk is higher in women than men because women have a higher percentage of body fat, she suggested.
To reduce their risk, women should be conscious of weight gain around the middle, according to Goldberg, who is also director of the NYU Center for Women's Health in New York City.
Her advice for those who find the pounds piling up around the waist: Cut down on sugar, carbohydrates and alcohol, which is largely sugar.
"These are the patients I target for decreases in starches and sugars, and increases in aerobic exercise to help reverse this process," she said.
The report was published online Feb. 28 in the Journal of the American Heart Association.

Copyright © 2018 HealthDay. All rights reserved.
SLIDESHOW
See Slideshow
Health Solutions
From Our Sponsors
References
SOURCES: Sanne Peters, Ph.D., research fellow, epidemiology, George Institute for Global Health, University of Oxford, U.K.; Nieca Goldberg, M.D., spokeswoman, American Heart Association, and director, NYU Center for Women's Health, New York City, and co-medical director, 92nd Street Y Cardiac Rehabilitation, New York City; Feb. 28, 2018, Journal of the American Heart Association, online