Latest Mental Health News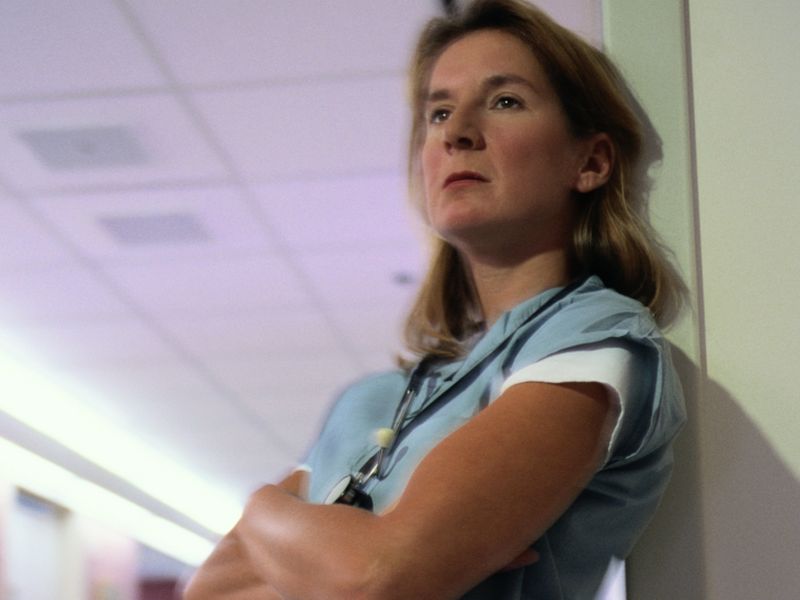 By Dennis Thompson
HealthDay Reporter
WEDNESDAY, Feb. 21, 2018 (HealthDay News) -- There's a good chance your doctor is in the middle of a quiet battle with professional burnout, a new study suggests.
More than 1 out of 3 physicians assessed in the Cleveland Clinic Health System suffered from mental, emotional and physical exhaustion, said study author Amy Windover, a clinical psychologist with the Cleveland Clinic.
As a result, these doctors might have poor health themselves, and become less able to provide quality care to patients, the researchers added.
These doctors also are at risk of throwing up their hands and leaving a profession already struggling with understaffing, Windover said.
About 35 percent of Cleveland Clinic doctors met the criteria for overall burnout, based on findings from a questionnaire that measures three aspects of burnout: emotional exhaustion, depersonalization and personal accomplishment.
Actually, the Cleveland Clinic doctors might be doing better than colleagues elsewhere, said Dr. Clif Knight, senior vice president for education at the American Academy of Family Physicians.
A 2014 study from the Mayo Clinic concluded that about half of all physicians across all specialties had evidence of burnout, Knight said.
"If there's any surprise, it might be that burnout wasn't a little higher in this group," said Knight, who wasn't involved with the new Cleveland Clinic study.
Doctors suffering from emotional exhaustion -- an overall depletion caused by stress and job burden -- actually got better satisfaction marks from patients, but were more likely to wind up resigning from their job, Windover said.
It appears as though these dedicated doctors are burning out trying to meet all their professional obligations and please their patients, she said.
"It's almost as if the physicians are trying to sacrifice themselves, to reduce the impact of our dysfunctional health system on our patients," Windover said.
Unfortunately, hospitals can't rely on patient satisfaction scores to detect doctors in the throes of burnout, the researchers noted.
At the other extreme were doctors whose burnout came in the form of detachment from patients and a depersonalization of their care, the study found. Those doctors were more likely to have complaints filed against them by patients, Windover said.
Doctors become more likely to burn out as they spend more time in direct patient care, the researchers found.
And it's not due to the patients themselves, but the paperwork that comes after each office encounter, Windover said.
Workflow studies have estimated that for every hour a physician spends seeing patients they need another two hours to deal with paperwork, Knight said.
"It's everything that steals physicians' time away from focusing on the clinical aspects of caring for patients," he said.
"Physicians go into medicine knowing they're going to work hard. They expect it to be difficult. I don't think any of us think it's going to be easy," Knight continued.
"But when you spend more of your time and energy on things that don't feel like they're making a difference for patients, that's when it becomes frustrating and you really start to feel emotional exhaustion," he said.
A team approach to health care can help, in which doctors are aided by office workers and health care professionals who can fill out paperwork and tend to other administrative chores, Knight said.
"It allows them to focus their time and energy on taking care of patients, and takes the burden of documentation off their plate to some degree," Knight said.
The Cleveland Clinic has also promoted coaching, peer mentorship and training so that doctors can communicate their frustrations with each other and help find ways to address them.
Physicians at the Cleveland Clinic do have one advantage over doctors in private practice -- they can pursue research projects that provide them a break from patient care.
"I think sometimes physicians feel like they're in this production line of seeing patient after patient after patient," Windover said.
The new study was published online Feb. 19 in the journal JAMA Internal Medicine.

Copyright © 2018 HealthDay. All rights reserved.
SLIDESHOW
See Slideshow
Health Solutions
From Our Sponsors
References
SOURCES: Amy Windover, Ph.D., clinical psychologist, Cleveland Clinic; H. Clifton Knight, M.D., senior vice president, education, American Academy of Family Physicians; Feb. 19, 2018, JAMA Internal Medicine, online