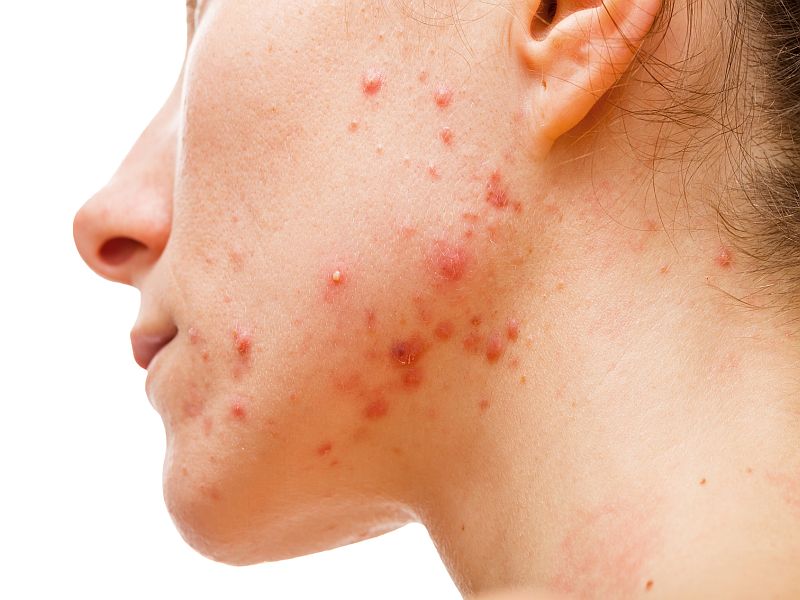 By Alan Mozes
HealthDay Reporter
FRIDAY, Feb. 9, 2018 (HealthDay News) -- Acne can be emotionally devastating at any age, and new research suggests it could even throw you into a deep depression.
"Our research has shown that patients with acne have a 63 percent increased risk of developing major depressive disorder in their first year following an acne diagnosis, compared to patients without acne," said study author Isabelle Vallerand.
"We also found that this risk remained significantly elevated up to five years following the first acne diagnosis," said Vallerand. She is an epidemiologist with the department of community health sciences at the University of Calgary, in Canada.
"Living with acne may have an impact on an individual's sense of self-worth," Vallerand said. And people of all ages, not just the classic pimple-plagued teen who shies away from socializing, were vulnerable to the agony of acne, she noted.
"Our results suggest that the risk of depression among patients with acne does not depend on age," Vallerand said.
Her team analyzed data collected between 1986 and 2012 by The Health Improvement Network, a British primary care database. The data covered more than 134,000 patients with acne, as well as another 1.7 million patients without acne.
Prior research has already suggested that upwards of one-quarter of all acne sufferers struggle with some mental health issues, the researchers pointed out.
The new study looked at various patient characteristics. After tracking the patients for an average of 15 years, the study found that those with acne faced an 18.5 percent risk for developing clinical depression, compared with just 12 percent among those without acne.
However, the elevated risk was only evident throughout the first five years following an acne diagnosis, and the study did not prove that acne itself causes depression risk to rise.
Still, "we were surprised to find that this risk was substantially high. So this highlights that mental health concerns among patients with acne should be taken seriously, and that treatment for depression among these patients should be started early when needed," Vallerand said.
One dermatologist said that she has witnessed the connection firsthand.
Dr. Whitney Bowe, medical director of integrative dermatology, aesthetics and wellness at Advanced Dermatology in New York City, said she sees "the emotional and physical scars of acne . . . every single day" in her practice.
"The devastating effect this disease can have on an individual's confidence and self-esteem, and the positive transformation that can result following effective therapy, was actually the reason I went into the field of dermatology," she said.
"Skin issues are not just skin deep," Bowe added.
"In fact, the skin and the brain are intimately connected, and as dermatologists we need to evaluate the patient in an integrative, comprehensive way if we truly want to determine the best course of treatment," she explained.
"I have been taking a comprehensive approach to my patients for years, inquiring about their stress levels, sleep patterns and coping mechanisms in addition to examining their skin," Bowe said. "And this study only provides more evidence supporting this approach."
Vallerand and her colleagues reported their findings in a research letter published online Feb. 7 in the British Journal of Dermatology.

Copyright © 2018 HealthDay. All rights reserved.
QUESTION
See Answer
Health Solutions
From Our Sponsors
References
SOURCES: Isabelle Vallerand, Ph.D., epidemiologist, department of community health sciences, Cumming School of Medicine, University of Calgary, Canada; Whitney Bowe, M.D., medical director, integrative dermatology, aesthetics & wellness, Advanced Dermatology, New York City; Feb. 7, 2018, British Journal of Dermatology, online