Latest Prevention & Wellness News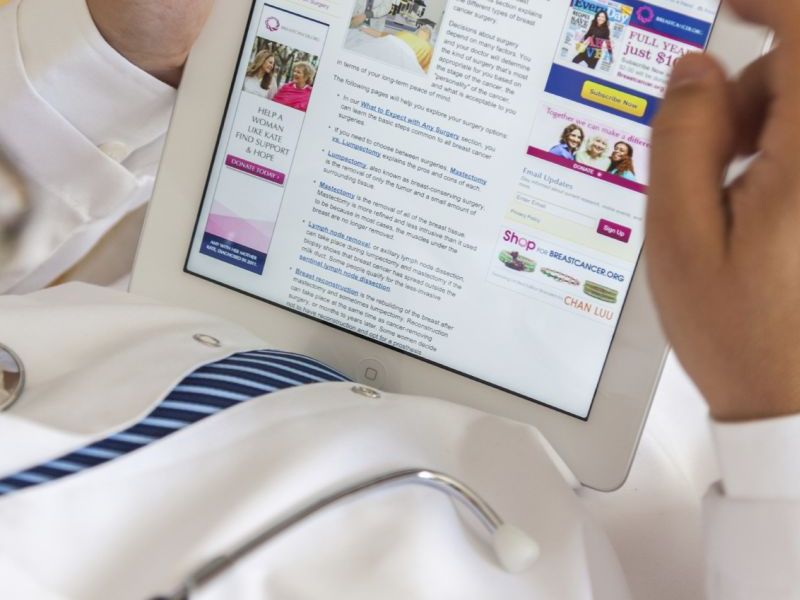 By Steven Reinberg
HealthDay Reporter
THURSDAY, Oct. 26, 2017 (HealthDay News) -- Most patients aren't thrilled about their doctor using a computer during office visits, University of Texas researchers report.
As electronic medical records become more common, it's not unusual for doctors to enter data into a computer as they talk with their patients. But after viewing videos of patients and doctors, researchers saw that people in the study preferred the doctors who were logged off.
"Most patients found doctors who used computers were less compassionate, had poorer communication skills and were less professional than the doctors who didn't use computers," said lead author Dr. Ali Haider. He's an assistant professor in the department of palliative, rehabilitation and integrative medicine at the University of Texas MD Anderson Cancer Center in Houston.
In fact, 72 percent of people with advanced cancer preferred the doctor who didn't use the computer, the study findings showed.
Haider said that he believes patients without cancer would also prefer face-to-face communication.
"Perhaps doctors seeing a patient for the first time and trying to build a relationship should try to focus more on face-to-face communication," he suggested.
What isn't known is whether patients have a different attitude about doctors using a computer during subsequent visits, Haider noted.
In addition, it isn't known if younger, more tech-savvy patients would have objections to their doctor using a computer during office visits.
Haider also pointed out that doctors who have more expertise in using computers might be more likely to communicate better with their patients while using the device than those who don't have a lot of experience with the technology.
But the computer is definitely a "third party" in the exam room, and it does change the dynamics of doctor-patient communication, he said.
For the study, Haider and colleagues had groups of advanced cancer patients watch one of four two-minute scripted videos. There were 120 study participants in total.
The videos showed two actors: one playing a doctor and one playing a patient. The doctors were either talking while entering data into a computer, or using only a pad and pen.
Study patients then watched a video of the scenario they hadn't seen. The doctor was the same in both videos for each participant.
The study participants filled out a questionnaire rating the doctor's communication skills, professionalism and compassion after watching each video.
After the first video, study patients gave doctors in the face-to-face (pad and pen) video higher marks for compassion, communication skills and professionalism than the doctors who used the computer.
After viewing both videos, nearly three-quarters of study volunteers liked the doctors in the face-to-face video more than the doctor using a computer.
Dr. Michael Grosso is chief medical officer at Huntington Hospital in Huntington, N.Y. He said, "Although this study needs to be replicated in other patient populations, my strong suspicion is that preference for face-to-face, personal engagement with their physician goes far beyond patients with advanced cancer."
People facing serious decisions, hearing bad news or facing their own mortality have a great need to know that "the physician who is caring for them also cares about them," Grosso said.
Everyone wants to feel that their doctors' care when faced with an illness, or even during routine exams, he added.
"We all want to know that our story is being heard, that we are not a number or a diagnostic entity, but a whole person seeking the assistance of another whole person," Grosso explained.
The findings of the study were scheduled for presentation Friday at the Palliative and Supportive Care in Oncology Symposium in San Diego. Research presented at meetings should be viewed as preliminary until it's been published in a peer-reviewed journal.

Copyright © 2017 HealthDay. All rights reserved.
QUESTION
See Answer
Health Solutions From Our Sponsors
References
SOURCES: Ali Haider, M.B.B.S., M.D., assistant professor, department of palliative, rehabilitation, and integrative medicine, University of Texas MD Anderson Cancer Center, Houston; Michael Grosso, M.D., chief medical officer, Huntington Hospital, Huntington, N.Y.; Oct. 27, 2017, presentation, Palliative and Supportive Care in Oncology Symposium, San Diego