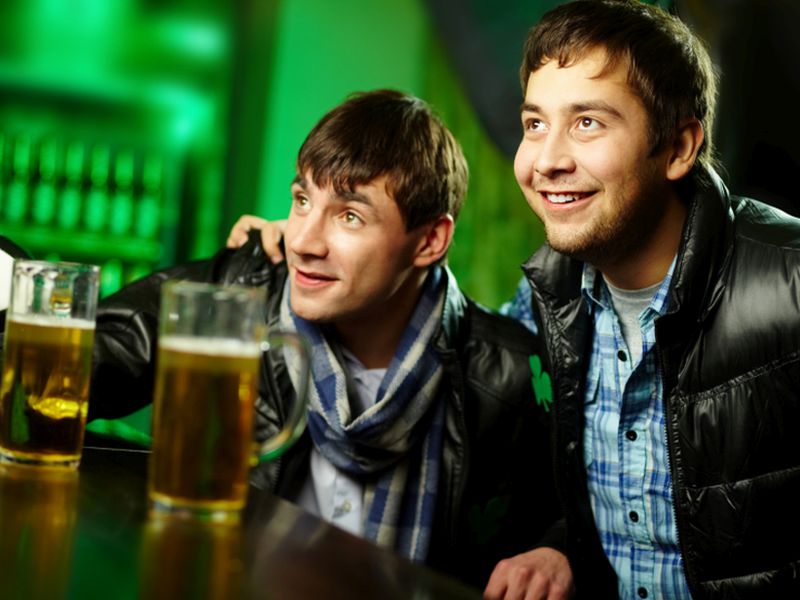 By Alan Mozes
HealthDay Reporter
FRIDAY, Oct. 13, 2017 (HealthDay News) -- In a decidedly male take on the BFF, new research shows that the emotional safety of a bromance might beat romance for some men.
A series of in-depth interviews with a small group of young, straight men revealed that the guys felt more comfortable sharing feelings and resolving conflicts with their male best friend than with their lover.
"The key differences we found is that romances are the sexual partner, and the bromance is the emotional partner," said study author Adam White.
The men his team interviewed said they "could be more emotionally open, without fear of being judged or policed, with their bromances, whereas they often were fearful of being their true selves with their romances through worry that sex may be withheld, they may end up arguing, or they may be judged negatively," he explained.
That could mean that romance is starting to lose some of its privileged status, White noted.
"In fact, some may consider the bromance a better option, as many of the emotional benefits are superior in a bromance," he said.
White is currently a Ph.D. candidate and lecturer of sport and physical education at the University of Bedfordshire in Luton, England.
The research team pointed out that the notion of "bromance" appeared to gain cultural currency around 2005, as a way to describe the increasing intimacy of straight male-male relationships as depicted in movies and on television.
To explore the phenomenon's impact, the British investigators conducted interviews with 30 men over a three-month period in 2014.
All were enrolled in the second year of their undergraduate studies. Most were white and described themselves as middle-class.
While all of the men voiced generally positive views of homosexuality, all were straight and had been involved in at least one romance with a girl, as well as at least one bromance with a guy.
Most participants said that -- sex aside -- they saw very little difference between the two types of relationships.
But nearly all (28 of 30) said they preferred sharing personal concerns and secrets with their bromance, the study found.
Why? Bromances appeared to offer a safe space that was presumed to be free of the kind of ridicule, judgment or embarrassment they associated with romantic intimacy.
What's more, nearly all the men (29 of 30) said they had cuddled with their bromance partner, without either sexual desire or shame. Most said their girlfriends were aware of -- and seemingly at ease about -- such physical contact. And some men indicated that they even kissed one another as a non-sexual sign of affection.
Nearly all the men also said that the arguments they got into with their girlfriends were far more intense, silly and enduring than bromantic conflicts. In the same vein, resolving differences seemed to be easier between men than between lovers, they said.
As to whether the rise of bromance inevitably comes at the expense of romance, White said the jury is still out.
"There is a real possibility that bromances and romances can co-exist harmoniously," he noted. "Likewise, the bromance may well challenge the construct of monogamy, and either the bromance or romance partner may feel jealous and threatened by the other."
White and his colleagues reported their findings in the Oct. 12 issue of Men and Masculinities.
Cassandra Alexopoulos, an assistant professor of communication with the College of Liberal Arts at the University of Massachusetts, Boston, said she viewed the advent of bromances as "a benefit for society, especially during a time in which we want to promote inclusive masculinity and allow men to feel comfortable expressing themselves emotionally."
Still, she cautioned that the "no judgment" nature of bromance may end up "leading men to see their romantic partner as a burden," giving rise to an "us versus them" view of women.
"For many people," Alexopoulos explained, "communicating in cross-sex relationships takes work, and requires a great deal of empathy and perspective-taking. It's important to remember that even though cross-sex communication can sometimes be more effortful, the social rewards that come with a cross-sex friendship or a romantic relationship are unique and emotionally fulfilling as well."

Copyright © 2017 HealthDay. All rights reserved.
SLIDESHOW
See Slideshow
Health Solutions From Our Sponsors
References
SOURCES: Adam White, Ph.D. candidate and lecturer, sport and physical education, University of Bedfordshire, Luton, U.K.; Cassandra Alexopoulos, Ph.D., assistant professor, communication, College of Liberal Arts, University of Massachusetts, Boston; Oct. 12, 2017, Men and Masculinities