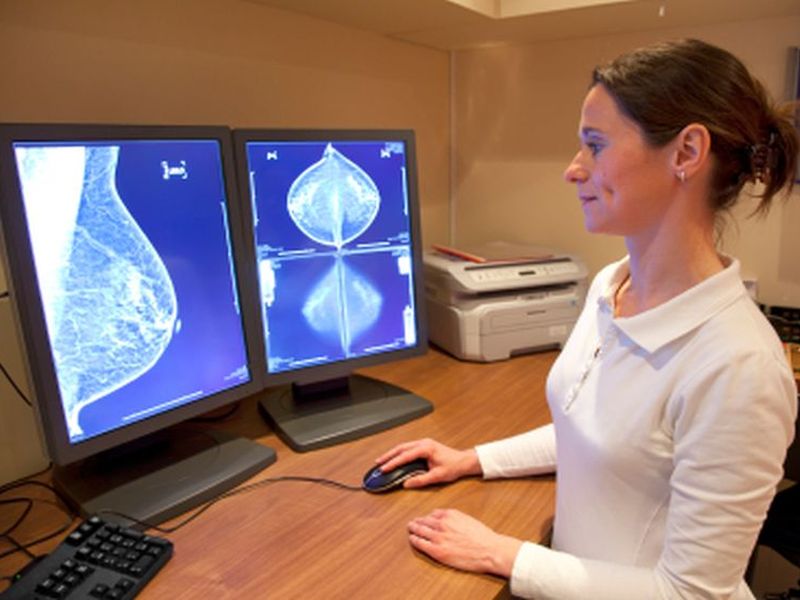 By Steven Reinberg
HealthDay Reporter
MONDAY, Sept. 25, 2017 (HealthDay News) -- Radiation therapy for breast cancer is actually "less scary" than anticipated, nine out of 10 patients say after treatment.
A survey of 300-plus breast cancer patients also found that more than 80 percent said the side effects of radiation were better than expected.
"The word radiation itself sounds frightening and is associated with many negative news stories," said lead researcher Dr. Narek Shaverdian, of the University of California, Los Angeles (UCLA).
But over the last 20 years, significant advances have been made, said Shaverdian, chief resident in radiation oncology at UCLA's David Geffen School of Medicine.
"These changes allow us to spare critical organs, create an individual radiation plan for each patient, and also deliver radiation in more convenient schedules," he explained.
Shaverdian and his team surveyed patients who had received radiation while treated at a UCLA breast cancer clinic between 2012 and 2016.
"The vast majority of patients agreed that if future patients knew the real truth about radiation therapy, they would be less scared about treatment," he added.
Recent studies have shown better survival and quality of life in patients treated with breast-conserving surgery and radiation rather than breast removal (mastectomy), Shaverdian noted.
"Despite this, more and more patients are electing for mastectomy, and there is an underutilization of radiation therapy, even in patients treated with mastectomy where radiation has shown to result in superior survival," he said.
What women may not realize is that the course of radiation in many cases has been cut from six weeks to barely three weeks, said Dr. Jed Pollack. He is chairman of radiation medicine at Lenox Hill Hospital in New York City.
Modern radiation therapy also results in less damage to the skin or other body organs, Pollack said.
"Those things added up make radiation a lot more convenient and a lot more tolerable" than it was in the past, Pollack explained.
In this study, researchers wanted to look at radiation therapy from the patient's perspective, Shaverdian said.
"We hoped having tangible real-world data could help guide patients and providers in their decision-making," he added.
Questionnaires were completed between 6 months and 5 years after radiation therapy. The women underwent either standard whole-breast radiation that did or did not include the lymph nodes, or short-course radiation after mastectomy, or partial breast radiation.
Nearly 50 percent of the patients said they'd heard horror stories of patients having serious radiation side effects.
And 94 percent said they had feared radiation. Their greatest concerns were damage to internal organs, skin burning and, for a small number, becoming radioactive, the survey found.
Only 3 percent, however, found the negative stories to be true, according to the researchers.
When patients compared their experience to their expectations, between 80 percent and 90 percent found their actual side effects were less than or as expected, Shaverdian said.
"We found most patients treated with radiation as part of breast conservation said that their radiation toxicities were less than expected regarding breast pain, work limitations, limitations on recreational activities, disruption on family and time felt ill," he said.
In addition, the overwhelming majority of breast-conservation patients and mastectomy patients agreed with the statement, "After treatment, I now realize that radiation therapy is not as bad as they say it is."
The study focused on 327 patients, average age 59. Eighty-two percent had had breast-conserving surgery.
The results were scheduled for presentation Monday at a meeting of the American Society for Radiation Oncology in San Diego. Research presented at meetings should be considered preliminary until published in a peer-reviewed medical journal.

Copyright © 2017 HealthDay. All rights reserved.
QUESTION
See Answer
Health Solutions
From Our Sponsors
References
SOURCES: Narek Shaverdian, M.D., chief resident, department of radiation oncology, University of California, Los Angeles; Jed Pollack, M.D., chairman, radiation medicine, Lenox Hill Hospital, New York City; Sept. 25, 2017, presentation, American Society for Radiation Oncology, San Diego