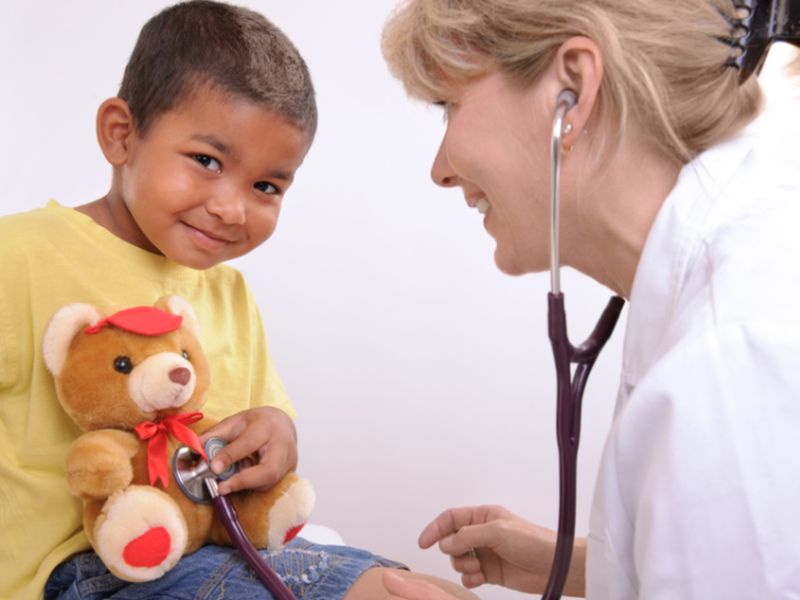 By Carole Tanzer Miller
HealthDay Reporter
THURSDAY, Sept. 21, 2017 (HealthDay News) -- Early exposure to pest and pet allergens -- cockroaches and mice droppings included -- may actually guard children against asthma, a new study of inner-city kids suggests.
"This confirms a similar finding last year that June Cleaver was, in fact, wrong," said Dr. Kelvin MacDonald, a pediatric lung specialist at Doernbecher Children's Hospital in Oregon who reviewed the findings. "So the apron and string of pearls and Lysol-disinfected home are probably not to your benefit."
But don't ditch your feather duster yet, Mom.
If a child actually had asthma, then reducing exposure to these allergens helps control the respiratory condition. Plus, an analysis of dust from homes where kids developed the disease by age 7 found elevated levels of certain harmful bacteria, including some present in feces.
And a child's asthma risk is significantly higher if their mom smoked during pregnancy or if she was stressed out or depressed, according to the team led by Dr. George O'Connor. He is a professor of medicine at Boston University.
The findings could prompt new strategies to prevent asthma, which affects more than 8 percent of Americans, according to the U.S. Centers for Disease Control and Prevention. The disease intermittently inflames and narrows airways, causing patients to wheeze and cough, and is a major cause of emergency room visits and hospitalizations.
"Our findings suggest that primary prevention strategies for childhood asthma in low-income urban communities should probably not focus on home allergen reduction," the authors wrote. "Interventions to reduce prenatal smoking and to reduce maternal stress and depression during pregnancy and infancy might hold promise for asthma prevention."
For the study, researchers followed 560 kids in Baltimore, Boston, New York City and St. Louis from birth to age 7. The investigators analyzed microbes in dust samples from their homes. The children were at high risk for asthma based on family history.
Of 442 kids assessed at age 7, 29 percent had asthma. Those whose homes had higher levels of cockroach, mouse and cat allergens during their first three years of life were less likely to have an asthma diagnosis, the study revealed. A small link with dog allergen was also found.
But kids who had more exposure to all four allergens -- cockroach, mouse, cat and dog -- by 3 months of age had a significantly lower asthma risk, the findings showed.
The researchers also discovered links between a home's bacteria population, or "microbiome," and asthma risk. Homes of children who developed asthma had higher levels of harmful bacteria; other homes had more abundant levels of good bacteria.
Study co-author Dr. James Gern, a professor of pediatrics at the University of Wisconsin-Madison, said pests and pets affect the microbiome, and it appears they all work together to help prevent asthma in children.
It's akin to the disease protection farm kids get from early exposure to outdoor plant and animal allergens. In a similar vein, suburban kids with dogs at home seem to have less allergy and asthma.
"In three very different environments, we're getting a similar story," Gern said.
The new study also confirmed previously noted links between a mother's health and habits, and her child's asthma risk.
Specifically, it found that children whose mothers smoked during pregnancy were more likely to have asthma by age 7. The same was true for those whose mothers experienced extreme stress or depression during the child's first three years. Researchers aren't sure why, and emphasized that the association does not prove cause and effect.
Dr. Cindy McEvoy, a professor of pediatrics in the division of neonatology at OHSU Doernbecher Children's Hospital, said the study suggests that women who want to get pregnant should keep asthma prevention in mind.
"If you're planning a pregnancy, thoughtful consideration of optimizing the mother's health and environment can have a lifetime impact on what a baby's pulmonary [lung] trajectories are going to be," she said. "If one has decreased lung function after delivery, there is a likelihood of decreased lung function throughout life and increased lung disease risk as an adult."
The researchers are continuing to follow the children, hoping to learn more about which factors influence asthma development.
SLIDESHOW
See Slideshow
The study was published Sept. 19 in The Journal of Allergy and Clinical Immunology.

Copyright © 2017 HealthDay. All rights reserved.
From
Asthma and Allergy Resources
Health Solutions
From Our Sponsors
Health Solutions From Our Sponsors
References
SOURCES: James Gern, M.D., professor, pediatrics and medicine, University of Wisconsin-Madison; Kelvin MacDonald, M.D., associate professor, pediatrics, division of pulmonology, and Cindy McEvoy, M.D., professor, pediatrics, division of neonatology, both from OHSU Doernbecher Children's Hospital, Portland, Ore.; Sept. 19, 2017, Journal of Allergy and Clinical Immunology; Sept. 19, 2017, American Academy of Allergy, Asthma & Immunology, news release; Sept. 19 2017, U.S. National Institute of Allergy and Infectious Diseases, news release