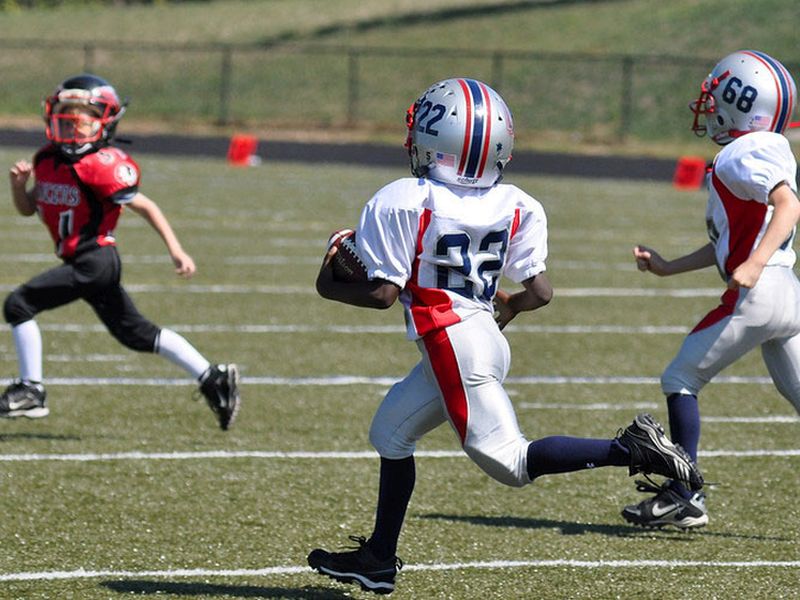 By Randy Dotinga
HealthDay Reporter
TUESDAY, Sept. 19, 2017 (HealthDay News) -- Kids who start playing tackle football before age 12 have a higher risk of mental and behavioral problems in adulthood than their counterparts who began playing at older ages, a new study suggests.
Researchers say playing tackle football at a younger age boosted the odds of later problems with behavioral control, apathy, thinking and decision-making by twofold compared to other players.
They also said the risk of clinical depression rose by threefold in these players compared to their counterparts who started playing at older ages.
"These findings were independent of the total number of seasons the participants played football or at what level they played, such as high school, college or professional," said study lead author Michael Alosco, a post-graduate fellow at Boston University's Chronic Traumatic Encephalopathy (CTE) Center.
However, these findings don't confirm that early time on the field actually causes these issues to be more common, only that there's an association between these factors.
Previous research by center found that former NFL players who started playing football before age 12 "had worse memory and mental flexibility as well as structural brain changes on MRI scans compared to former players who began at age 12 or older," Alosco said.
He added that other research has suggested that playing just one season of youth football could change the brain in ways that are detectable via MRI scans.
The new study attempted to track the possible effects of youth football into later life. The cutoff of age 12 "was examined because the brain undergoes key periods of brain development during childhood, and several brain structures and functions reach peak development during the period leading up to age 12 in males," Alosco said.
The study authors asked questions of 214 men who formerly played high school, college or pro football and didn't play other organized sports.
The participants' average age was 51, and 90 percent were white. The men had played various positions except quarterback.
Researchers found that 55 percent of the participants who played football before age 12 showed signs of behavioral problems based on one test compared to 43 percent of those who started later.
In terms of depression, two-thirds of those who started before age 12 showed signs of depression compared to a much lower 44 percent of those who started later.
The study didn't compare these difficulties in football players to men in the general population who didn't play football at all.
Researchers adjusted their statistics so they wouldn't be thrown off by high or low numbers of participants who shared certain ages, levels of education, or time spent playing football. They still found a twofold increase in the odds of behavioral and thinking issues and a threefold increase in the odds of depression.
What could be causing this? Alosco points to hits to the head. "However, not all individuals who play tackle football develop these problems," he said.
The study has limitations. Almost all participants are white, and it's limited to those who agreed to take part. The researchers don't consider reasons players may have begun playing football early, and it doesn't compare the rates of the various mental problems to similar men who never played football.
Steven Rowson, an assistant professor at Virginia Tech who studies concussions in football, said the new study is an "important early look" at the long-term effects of early football playing.
As for advice for parents, Alosco said "more research is needed before we can give any specific recommendations. We definitely need to avoid knee-jerk reactions to a single study."
However, he said, "research on the effects of football on the brain is now at a point where it cannot be ignored. We then need to consider if it makes sense to drop our children off at a field where they put on a large plastic helmet and face mask, making them a bobblehead, and hit their heads against other players and the ground hundreds of times in a season."
Rowson put it this way: "Youth football leagues, like Pop Warner, have started restricting contact practice days and eliminating certain drills. Beyond that, there are voices saying kids shouldn't play tackle football before high school, and these findings seem to make that argument stronger. It is unknown what effects such changes might have in relation to a study like this, but reducing the number of times kids hit their heads playing football is likely a good thing."
The study appears Sept. 19 in Translational Psychiatry.

Copyright © 2017 HealthDay. All rights reserved.
QUESTION
See Answer
Health Solutions From Our Sponsors
References
SOURCES: Michael Alosco, Ph.D., post-graduate fellow, Boston University CTE Center, Boston University School of Medicine; Steven Rowson, Ph.D., assistant professor, Department of Biomedical Engineering and Mechanics, Virginia Polytechnic Institute, Blacksburg, Va.; Sept. 19, 2017, Translational Psychiatry