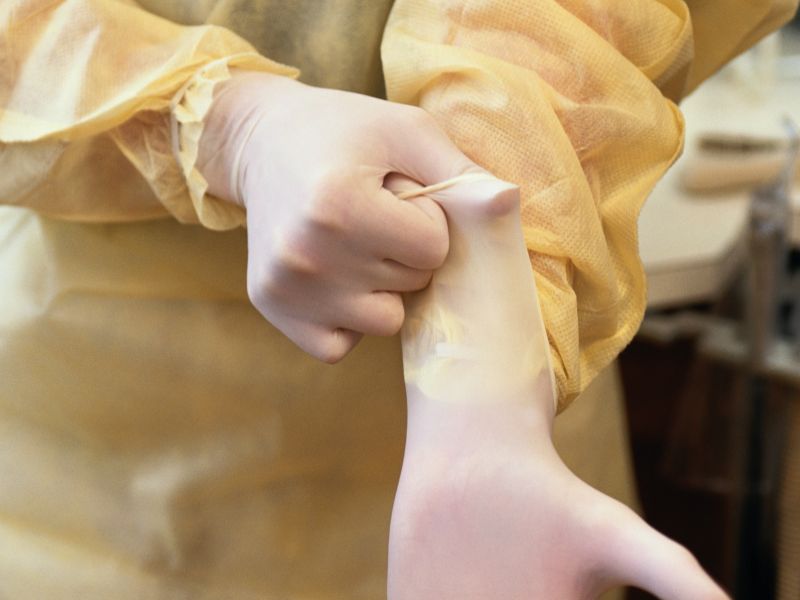 MONDAY, Sept. 18, 2017 (HealthDay News) -- Nursing home workers often fail to change their gloves when they should, which increases the risk of patient infections, a new study finds.
"Glove use behavior is as important as hand washing when it comes to infection prevention," lead study author Deborah Patterson Burdsall said.
"These findings indicate that glove use behavior should be monitored alongside hand hygiene. The observations should be shared with staff to improve behaviors and reduce the risk of disease transmission," said Burdsall, from the University of Iowa College of Nursing.
Her team assessed inappropriate glove use among 74 certified nursing assistants performing everyday tasks such as toileting care. These assistants are often the main providers of care in nursing homes and other long-term care facilities.
Inappropriate glove use was defined as a failure to change gloves and touching surfaces with contaminated gloves.
The assistants in the study wore gloves for 80 percent of touches, but failed to change gloves at 66 percent of glove change points. More than 44 percent of the gloved touches were contaminated, and all contaminated touches were with gloved hands.
The researchers noted that gloves were readily available on all units in public areas, shower rooms, patient rooms and patient bathrooms. Gloves should be changed in-between patients, after touching blood or body fluids; after completing a patient task; and after the gloves touch a potentially contaminated site.
The study appears in the September issue of the American Journal of Infection Control, the journal of the Association for Professionals in Infection Control and Epidemiology (APIC).
"Gloves are an essential component of standard precautions, and proper use of gloves is a critical component of best practices to prevent [health care-associated infections]," APIC President Linda Greene said in an association news release.
"This is especially important in long-term care, where residents are more vulnerable to infection and stay for extended periods. Facilities must continually educate health care providers about the importance of appropriate glove use to prevent infection and monitor adherence to this practice," Greene said.
Between 1.6 million and 3.8 million infections occur in long-term care facilities each year, resulting in about 388,000 deaths and costing between $673 million and $2 billion, according to APIC.
-- Robert Preidt

Copyright © 2017 HealthDay. All rights reserved.
SLIDESHOW
Exercise Tips for Seniors See Slideshow
Health Solutions
From Our Sponsors
References
SOURCE: Association for Professionals in Infection Control and Epidemiology, news release, Sept. 7, 2017
CONTINUE SCROLLING FOR RELATED SLIDESHOW