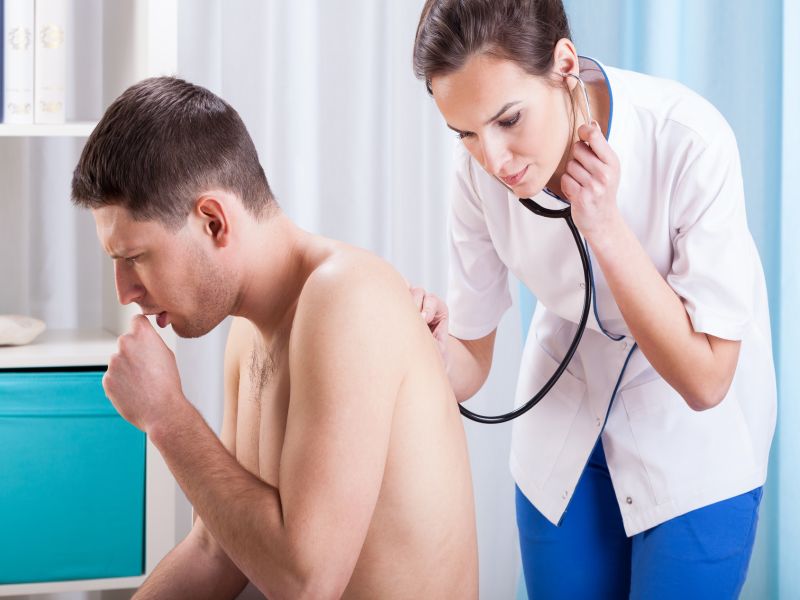 WEDNESDAY, Aug. 23, 2017 (HealthDay News) -- Doctors sometimes prescribe a steroid for patients with bronchitis or other troublesome chest infections, but a new British study says the approach isn't warranted.
"Our study does not support the continued use of steroids as they do not have a clinically useful effect on symptom duration or severity," said study lead researcher Dr. Alastair Hay, who teaches primary care medicine at the University of Bristol.
"We would not recommend their use for this group of patients," Hay said in a university news release.
For the study, Hay's team tracked outcomes for nearly 400 adults with acute (short-term) lower respiratory tract infections. The participants, who did not have asthma, were split into two groups. Half of the patients received 40 milligram pills containing an oral steroid for five days, while the other half received an identical inactive placebo for the same length of time.
None of the patients had pneumonia or bacterial infections that required antibiotics, the researchers noted.
The study, published Aug. 22 in the Journal of the American Medical Association, found the patients on steroids had no reductions in severity or duration of their cough or other symptoms, compared to those who took the placebo. That suggests that the steroids weren't effective in treating the chest infections, Hay's team said.
As Hay explained, many chest infections are viral, and patients are often inappropriately given an antibiotic -- which can only fight off bacterial infections -- in an attempt to treat them. When that approach fails, physicians often turn to steroids.
Steroid medications "are increasingly being used to try to reduce the symptoms of chest infections, but without sufficient evidence," Hay said. The new study suggests steroids won't help either, and they come with certain hazards.
According to study co-author Mike Moore, from the University of Southampton, the drugs "need to be used carefully because of the risk of unwanted side effects."
Steroid medications can successfully help ease asthma flare-ups, Moore noted in the news release, and "we chose to test the effect of steroids for chest infections as some of the symptoms of chest infections -- such as shortness of breath, wheeze and cough with phlegm -- overlap with acute asthma."
Two U.S. experts in respiratory health said the new study gives patients and doctors valuable information.
Dr. Howard Selinger is head of family medicine at the Netter School of Medicine at Quinnipiac University in Hamden, Conn. He said that "it is heartening to know that clinicians can reassure patients that if they have a viral process, and if they are otherwise healthy and have no pneumonia," the correct course of treatment is not steroids, but hydration and medicines aimed at easing cough and congestion.
Dr. Len Horovitz, a pulmonary specialist at Lenox Hill Hospital in New York City, agreed. But he added that the advice might be different in people with asthma.
"In adults with asthma, any infection may cause a flare of asthma, and steroids might be indicated in this population of patients, depending on the severity of the asthma symptoms," Horovitz said.
-- Mary Elizabeth Dallas

Copyright © 2017 HealthDay. All rights reserved.
QUESTION
See Answer
Health Solutions
From Our Sponsors
References
SOURCES: Len Horovitz, M.D., pulmonary specialist, Lenox Hill Hospital, New York City; Howard Selinger, M.D., chair of family medicine, Frank H. Netter MD School of Medicine, Quinnipiac University, Hamden, Conn.; University of Bristol, news release, Aug. 22, 2017