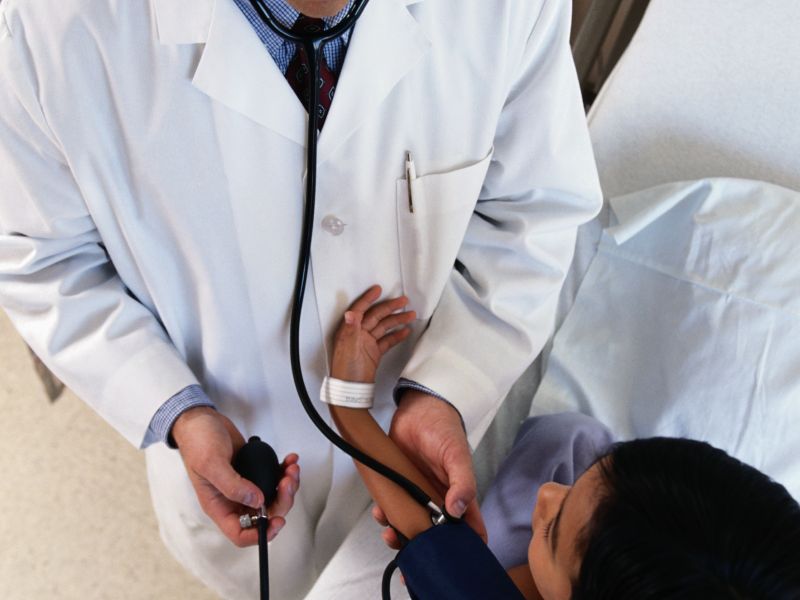 MONDAY, Aug. 21, 2017 (HealthDay News) -- More U.S. kids and teens are likely to be diagnosed and treated for high blood pressure because of new guidelines released Monday from the American Academy of Pediatrics.
About 3.5 percent of children and teens have abnormally high blood pressure ("hypertension"), which often goes unnoticed and untreated, the academy said.
"If there is diagnosis of hypertension, there are many ways we can treat it," said Dr. David Kaelber, who helped develop the guidelines. "But because the symptoms are silent, the condition is often overlooked."
When high blood pressure isn't addressed, it can lead to heart and kidney problems years later, the academy added.
This is of special concern because incidence of childhood high blood pressure has risen in the United States since 1988, although recently it has plateaued, the guideline authors noted.
Under the new, simplified tables, children will have their blood pressure measured against normal-weight children, so ideal readings will likely be lower than in the past. Obese or overweight kids -- who were included under earlier guidelines -- are more likely to have high blood pressure, possibly skewing recommended measurements.
As a result of this change, it's thought more children could be categorized as needing treatment.
That's a good thing, Kaelber's team said.
Dr. Joseph Flynn, who co-chaired the guidelines subcommittee with Kaelber, explained that "by catching the condition early, we are able to work with the family to manage it, whether that's through lifestyle changes, medication or a combination of treatments."
Noting the link between obesity and high blood pressure, the academy pointed out that lifestyle changes -- such as diet and exercise -- are the first-line treatment for high blood pressure.
Doctors should prescribe blood pressure-lowering medications if those behavior changes don't reduce blood pressure, or if the child has another condition, such as kidney disease or diabetes, according to the guidelines.
But first, kids with an elevated blood pressure reading should have 24-hour monitoring at home, the academy said. This will rule out the possibility of "white coat effect" -- anxiety in the doctor's office that raises blood pressure.
Also, to simplify classification for doctors, the academy recommends adults and teens use the same blood pressure tables.
"These guidelines offer a renewed opportunity for pediatricians to identify and address this important -- and often unrecognized -- chronic disease in our patients," Kaelber said. "The easy part was developing the new guidelines. Now we begin the harder work of implementing them to help children and adolescents."
The guidelines were published online Aug. 21 in the journal Pediatrics.
-- Margaret Farley Steele

Copyright © 2017 HealthDay. All rights reserved.
SLIDESHOW
See Slideshow
Health Solutions
From Our Sponsors
References
SOURCE: American Academy of Pediatrics, news release, Aug. 21, 2017