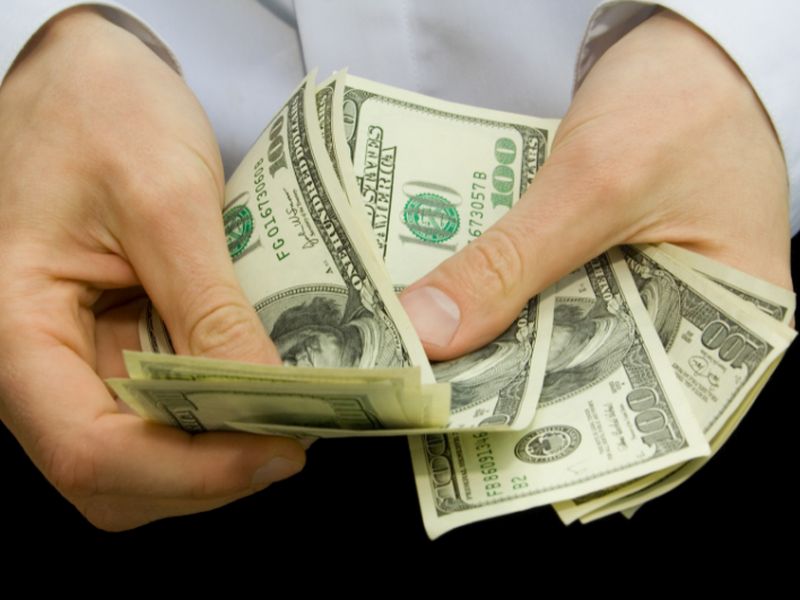 By Amy Norton
HealthDay Reporter
THURSDAY, Aug. 10, 2017 (HealthDay News) -- Many cancer patients in the United States are shocked by their out-of-pocket costs for care -- with some spending one-third of their income on treatment, a new study finds.
The study looked at the financial toll of cancer treatment on people who have health insurance. The vast majority in the study had private insurance or Medicare coverage; the rest were on Medicaid, the government insurance program for poor Americans.
Despite that, the study found, patients typically spent nearly $600 a month on their treatment.
Overall, 16 percent said they were facing "high or overwhelming financial distress." Those patients were spending nearly one-third of their monthly income on cancer care.
Dr. Yousuf Zafar, the senior researcher on the study, used the term "financial toxicity."
"Oncologists talk about the toxicities of cancer treatment. But there can also be a financial toxicity that may affect patients' mental and physical health," said Zafar, a medical oncologist at the Duke Cancer Institute in Durham, N.C.
Based on other research, he said, heavy financial burdens can even cause some patients to stop treatment.
In this study, patients who faced unexpectedly high costs did say they'd be less willing to pay for future treatment, versus other patients.
But it's not known whether finances actually did affect their treatment decisions, Zafar said.
It's no secret that the cost of cancer treatment in the United States can be astronomically high. For example, newer, "targeted" drugs -- which zero in on specific abnormalities on cancer cells -- can cost thousands of dollars a month, according to the American Cancer Society.
Earlier this year, the society's Cancer Action Network released its own report on U.S. patients' out-of-pocket expenses. It found that, in 2014, Americans spent almost $4 billion on cancer care.
Like the new study, the report looked at patients with insurance -- either through an employer, an "Obamacare" plan for individuals (through the Affordable Care Act), or Medicare.
On average, patients' yearly costs ranged from $6,000 to $10,000. That was counting what they paid toward their monthly premium, deductibles and co-pays for services their plan did not fully cover.
Jennifer Singleterry, a senior analyst with the cancer society's Cancer Action Network, worked on that report.
She said the new study highlights another layer to the issue: Patients are often unprepared for the out-of-pocket costs they'll face.
Of 300 patients surveyed, 39 percent said their financial burden was higher than expected, the findings showed.
"Part of that might be due to a lack of understanding of how health insurance works," Singleterry said. People may not, for example, realize they'll have deductibles and co-payments on top of the premiums they pay.
Zafar made a similar point. "Other research has found that about 40 percent of Americans don't know what a deductible is," he said.
But, Singleterry said, even an "expert" could have a hard time predicting how much cancer treatment will cost. Medical care does not come with a price tag, and the "arcane language" of insurance plans can make it difficult to understand what's covered, she noted.
There are no "easy solutions," Singleterry said.
But at a time of debate over the nation's health care system, a couple of things seem clear, she said. "For one, don't take away people's health care coverage," Singleterry stated.
By law, most private insurance plans have to limit the out-of-pocket expenses patients pay each year. Keeping that protection in place will be vital, she explained.
Still, it's no guarantee that cancer patients will not foot a huge bill, Singleterry said. If, for example, they have to go "out of network" for treatment, their insurance plan may not cover it at all.
Zafar said that there are resources for cancer patients who cannot afford their care. Some drug companies, for instance, have financial-assistance programs for the medications they manufacture.
He encouraged patients to talk to their doctor if they are in financial trouble. The medical center may have financial advisors or social workers who can help.
Zafar noted patients sometimes worry about bringing up their financial situation -- fearing their doctor or hospital won't give them the full care they need.
"Don't be afraid to talk to your doctor," Zafar said. "It won't detract from your care."
Singleterry made another point: Even if an insurance plan denies coverage for a service, patients "almost always" have the right to appeal.
The findings are based on 300 patients at Duke and three of its rural clinics. They were treated for a range of cancers, including colon, breast, lung and pancreatic.
The report was published Aug. 10 in JAMA Oncology.

Copyright © 2017 HealthDay. All rights reserved.
SLIDESHOW
See Slideshow
Health Solutions
From Our Sponsors
References
SOURCES: S. Yousuf Zafar, M.D., medical oncologist, Duke Cancer Institute, Durham, N.C.; Jennifer Singleterry, M.A., senior analyst, policy analysis and legislative support, American Cancer Society Cancer Action Network, Washington, D.C.; Aug. 10, 2017 JAMA Oncology, online