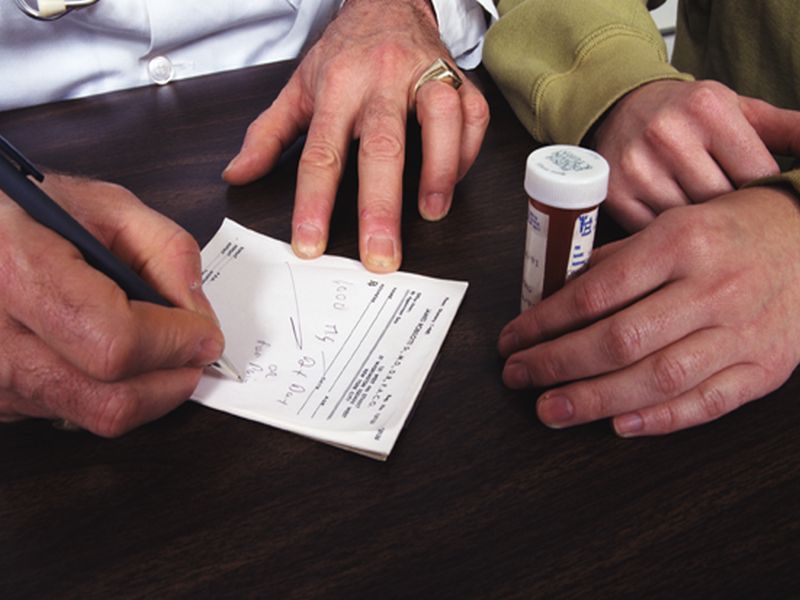 By Dennis Thompson
HealthDay Reporter
WEDNESDAY, Aug. 2, 2017 (HealthDay News) -- Physicians might be relying too heavily on "off-label" use of epilepsy drugs as an alternative to prescribing narcotic painkillers, two experts in internal medicine contend.
Doctors are prescribing the anti-seizure drugs gabapentin (Neurontin) and pregabalin (Lyrica) to treat pain more frequently, partly in response to the opioid epidemic in the United States, said Dr. Allan Brett. He's a professor of clinical internal medicine with the University of South Carolina School of Medicine in Columbia.
However, the drugs might not be doing any good for many people suffering from chronic pain, Brett said.
That's because the medications are only FDA-approved to treat certain types of pain. Yet, "increasing numbers of patients [are] being prescribed either of these drugs for any kind of pain symptoms," he said.
Brett and co-author Dr. Christopher Goodman, an assistant professor of clinical internal medicine, argued their point in a letter published in the Aug. 3 issue of the New England Journal of Medicine.
In many cases, gabapentin and pregabalin could fail to ease pain while also creating potentially serious side effects, Brett noted.
"They can be sedating. They can cause dizziness," he said. "I've found that some patients who take these drugs say they seem to affect their thinking or cognition in a subtle way that troubles the patient."
Other side effects include allergic reaction, fatigue, balance problems, impotence, change in bowel movements, sluggishness and confusion, said Dr. Minisha Sood, an endocrinologist with Lenox Hill Hospital in New York City.
Brett said that gabapentin and pregabalin originally were developed as anti-seizure drugs for epilepsy, but clinical trials found the drugs also showed promise in relieving certain kinds of nerve-related pain.
As a result, the U.S. Food and Drug Administration approved them for use in treating shingles pain, fibromyalgia, and nerve pain associated with diabetes or spinal cord injuries, the authors said in background information.
Doctors struggling to ease patients' pain without resorting to opioids appear to be turning to the anti-seizure drugs, even in cases where the pain doesn't fall under FDA guidelines, Brett said.
Gabapentin, which is now available in generic form, was the 10th most commonly prescribed medicine in the United States in 2016, according to national prescribing data. That year, 64 million prescriptions were dispensed, up from 39 million in 2012.
Meanwhile, brand-name pregabalin (Lyrica) ranked 8th in drug spending in 2016 with sales of $4.4 billion, more than double the amount in 2012, the researchers noted.
"We hardly see these drugs being prescribed anymore for seizures, but prescribing for pain has skyrocketed in the past few years," Brett said. "This fairly dramatic increase in prescribing of these drugs has to do with physicians now recognizing the overprescription of opioids and looking for other alternatives to treat certain kinds of pain."
Sood called the prescription data presented by Brett and Goodman "a cause for concern."
"Not all pain is classically neuropathic [nerve-related], and it is alarming to recognize that medications classically used for this type of pain are being used for more general pain management," Sood said.
Beyond ineffectiveness against pain and side effects, there is some evidence that patients might misuse the two drugs to get high, Brett and Sood noted.
Some users experience euphoria from taking the drugs, and can experience withdrawal when high doses are stopped abruptly, Brett said.
IMAGES
Browse our medical image collection to see examples of MRI brain scans, PET scans, and other imaging techniques used to diagnose and treat brain disorders
See Images
Instead of relying on such opioid alternatives, physicians would do better to steer patients towards non-drug means of pain management, Brett said. These might include physical therapy or cognitive behavioral therapy provided by a pain management center.
"There's a temptation to write a prescription and get on with the day, and there's a fear that not medicating will lead to dissatisfaction on the patient's part," Brett said.
"We need to teach our patients that, depending on the medical problem, sometimes the most appropriate goal is to mitigate pain or teach people to cope with pain without 100 percent eradicating it," he added.
Sood agreed.
"The opioid crisis is certainly garnering the attention it deserves, but gabapentin and pregabalin would merely be band-aids for an otherwise unrecognized issue -- that pain should not only be addressed pharmacologically but through more comprehensive, compassionate, holistic avenues as well," Sood said.

Copyright © 2017 HealthDay. All rights reserved.
From
Brain & Nervous Resources
Health Solutions
From Our Sponsors
Health Solutions From Our Sponsors
References
SOURCES: Allan Brett, M.D., clinical professor of internal medicine, University of South Carolina School of Medicine, Columbia, S.C.; Minisha Sood, M.D., endocrinologist, Lenox Hill Hospital, New York City; Aug. 3, 2017, New England Journal of Medicine