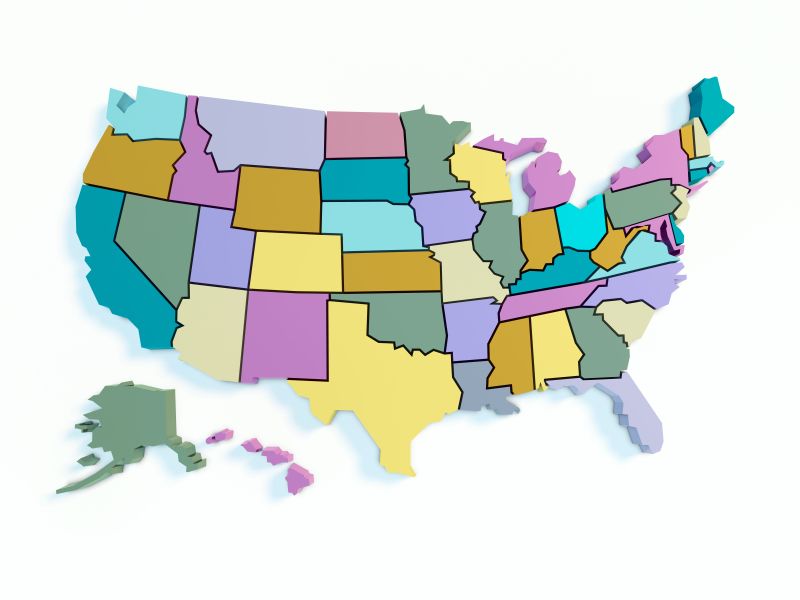 By Steven Reinberg
HealthDay Reporter
MONDAY, July 31, 2017 (HealthDay News) -- Health problems for people born in the so-called Stroke Belt of the United States also include a higher risk of developing dementia -- even if they move elsewhere, a new study suggests.
Researchers who calculated data on thousands of adults living in northern California found dementia risk was roughly 26 percent higher for those born in nine states, nearly all in the Southeast.
Blacks, in particular, were at an increased risk for dementia if they started life in: Alabama, Alaska, Arkansas, Louisiana, Mississippi, Oklahoma, Tennessee, South Carolina and West Virginia, said study author Paola Gilsanz.
"We already know that living in certain states in the U.S. is associated with poorer health outcomes," said Gilsanz, a research fellow at Kaiser Permanente Northern California division of research in Oakland.
"This study contributes to a growing body of evidence that exposures in early life contribute to brain health," Gilsanz added.
At age 65, the absolute 20-year risk for dementia among California residents born in Stroke Belt states was 30 percent compared with 22 percent among Californians not born in those states, the researchers found.
Prior research has linked the Stroke Belt states with a higher risk for high blood pressure, diabetes, stroke and mental impairment, the study authors said in background notes.
It's also known that people carry their stroke risk with them. What wasn't known was if they take their dementia risk with them, too.
"The answer appears to be yes," said Daniel Lackland, a professor of epidemiology in the neurology department at the Medical University of South Carolina.
A combination of lifestyle and genetics is likely to blame, said Lackland, who wrote an editorial accompanying the study. He pointed out that other research has linked high stroke-risk areas with elevated rates of poor birth outcomes, such as low birth weight.
It's not place of birth, per se, and people aren't doomed to mental decline if they're born in West Virginia or Alabama. Still, people from high-risk regions need to take steps to improve their health, he said. That means controlling high blood pressure and cholesterol, maintaining a healthy weight, being physically active and eating a healthy diet.
By living a healthy lifestyle, you can lower your risk, Lackland said. That's true whether you're born and stay in the Stroke Belt or move away, he added.
Noting the higher risk for dementia among blacks in general, Gilsanz said place of birth might be one contributor.
"Place of birth may reflect a host of social and environmental conditions in early life that could be some of the primary drivers of racial inequalities in rates of dementia," she said.
The study involved 7,400 adults living in northern California. Information was obtained when they were in their 40s and up to 20 years later.
Dementia was identified in more than 2,200 of the participants (30 percent), according to the report.
Mental decline was more common when birth was in a state with a high rate of stroke death (39 percent) compared to birth in a lower-risk state (29 percent), the researchers found.
Blacks born in Stroke Belt states had the highest dementia odds -- a 67 percent higher risk compared with whites born outside these states, Gilsanz said.
One limitation of the study is that the researchers could not determine how long someone had lived in a high stroke-death state. That meant they couldn't tease out whether living longer in one of those states worsened the risk for dementia, or if the age when someone left the state altered their risk.
The report was published online July 31 in the journal JAMA Neurology.

Copyright © 2017 HealthDay. All rights reserved.
QUESTION
See Answer
Health Solutions From Our Sponsors
References
SOURCES: Paola Gilsanz, Sc.D., research fellow, Kaiser Permanente Northern California Division of Research, Oakland, and University of California, San Francisco; Daniel Lackland, Dr.P.H., professor, epidemiology, department of neurology, Medical University of South Carolina, Charleston; July 31, 2017, JAMA Neurology, online