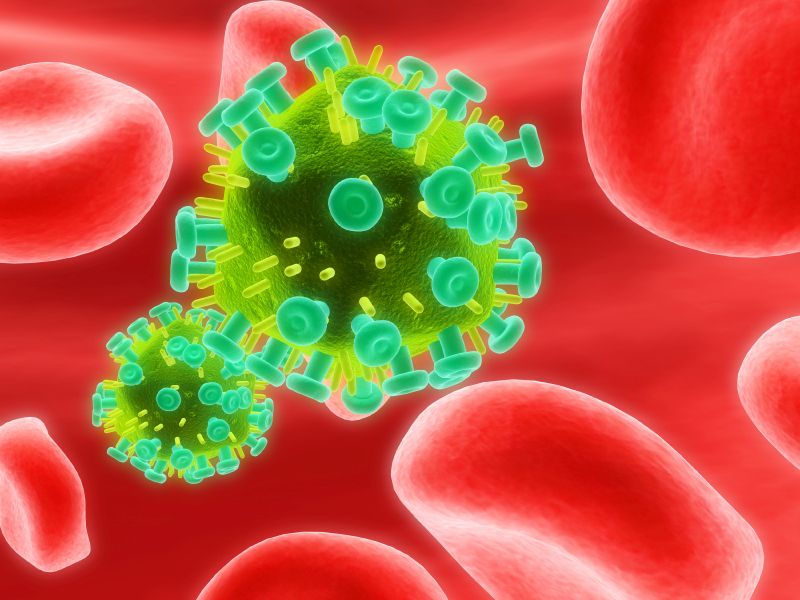 By Alan Mozes
HealthDay Reporter
TUESDAY, July 25, 2017 (HealthDay News) -- For the first time, bacteria that live under the foreskin of uncircumcised straight men have been linked to a rise in the risk for contracting HIV, new research indicates.
Researchers found four specific types of bacteria tied to a higher risk of the AIDS-causing virus. These bacteria are part of the microbiome -- a collection of microorganisms found in a particular area -- of the area on the penis located under the foreskin.
The study of African men revealed that whenever these bacteria increase in quantity by a factor of 10, HIV risk appears to rise by as much as 63 percent.
"We found that heterosexual men who carried certain kinds of bacteria on their penises were more likely to get infected by HIV," explained study lead author Dr. Cindy Liu. She's an assistant professor of environmental and occupational health with George Washington University's Milken Institute School of Public Health in Washington, D.C.
"These bacteria," she added, "belong to a group called anaerobes, because they thrive in areas with low oxygen, such as under the foreskin of uncircumcised men.
Liu called the findings "exciting," because they may lead to "new ways to lower the risk for HIV infection, specifically by reducing these kinds of bacteria. The next step is to figure out how to do that, but we're not there yet."
According to the World Health Organization, male circumcision can help cut back on the risk for acquiring HIV in heterosexual men. The WHO recommends undergoing circumcision for HIV prevention only for those who live in areas where HIV rates are high, where new HIV infections frequently occur among heterosexual partners, and where male circumcision is otherwise relatively uncommon.
To explore how foreskin bacteria might boost HIV vulnerability, investigators spent two years tracking more than 180 men who lived in the town of Rakai in Uganda.
During that time, 46 men became infected with HIV.
And after analyzing bacterial samples swabbed from under the foreskin of all the participants, the study team concluded that those who had higher quantities of four anaerobic bacteria also had a significantly higher risk for contracting HIV.
As to why, the team theorized that it could have something to do with an increase in the production of certain biochemicals (called cytokines) triggered by the presence of these particular bacteria.
In turn, these biochemicals appear to draw in immune cells. As infection fighters, immune cells are typically considered the "good guys." But they are also well known as a point of high vulnerability entry for HIV. So in this instance, their rise in number -- initially sparked by bacterial growth -- may serve to draw HIV in, thereby driving up infection risk, the researchers said.
Liu stressed that the new study focused solely on heterosexual men living in areas with high HIV infection rates.
"It's thought that most gay men are infected while having unprotected receptive anal sex," she said, "so these findings are probably not relevant to the gay community in the United States."
As for what can be done to reduce risk among uncircumcised straight men, Liu acknowledged that "not every man wants to be circumcised.
"[But] at this time," she said, "there is unfortunately not a known effective way to change the penile microbiome to reduce the risk of HIV."
Dr. Michael Horberg is director of HIV/AIDS with Kaiser Permanente, and immediate past chair of the HIV Medicine Association in Washington, D.C. He was not involved with the study, but said the finding "adds to the knowledge that uncircumcised men are at significantly greater risk of HIV infection than circumcised men.
"A clear implication of this study," Horberg added, "is [that] circumcision is an important HIV prevention mechanism in areas of high HIV prevalence."
It's not clear yet what steps uncircumcised men can take to limit their risk in addition to condom use, Horberg said.
"However, among uncircumcised HIV-negative men, good penile hygiene should theoretically help," he said, "including cleansing underneath the foreskin and complete air drying of the area prior to pulling the foreskin back."
Liu and her colleagues reportedtheir findings in the July 25 issue of mBio.

Copyright © 2017 HealthDay. All rights reserved.
SLIDESHOW
See Slideshow
Health Solutions From Our Sponsors
References
SOURCES: Cindy M. Liu, M.D., M.P.H., Ph.D., assistant professor, environmental and occupational health, George Washington University's Milken Institute School of Public Health, Washington, D.C.; Michael A. Horberg, M.D., director, HIV/AIDS, Kaiser Permanente, and immediate past chair, HIV Medicine Association, Washington D.C.; July 25, 2017, mBio