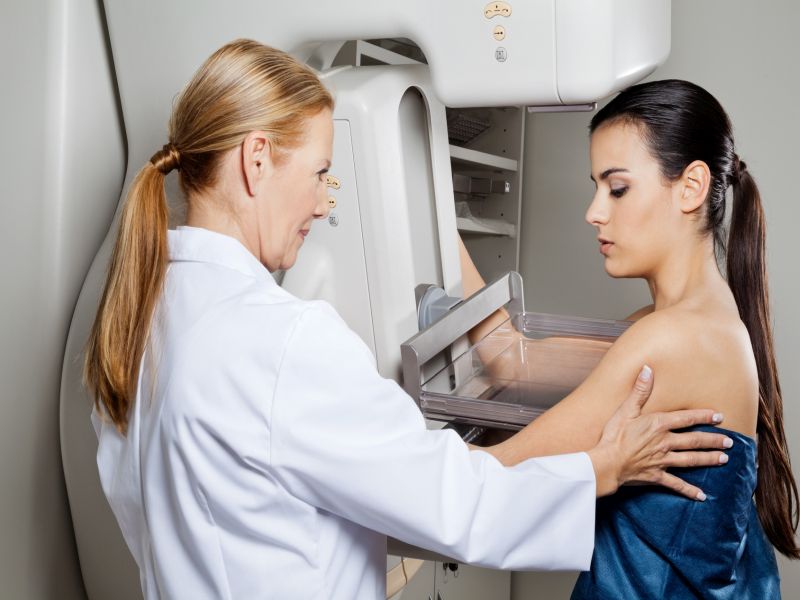 MONDAY, April 3, 2017 (HealthDay News) -- Women with a particularly aggressive form of breast cancer who responded to an new immune-focused drug gained a significant survival benefit, a new study shows.
The patients all had what's known as advanced, "triple-negative" breast cancers.
"Triple-negative breast cancer is an aggressive subtype of breast cancer often affecting younger women and, unfortunately, the current treatment options for metastatic disease remain limited," explained Dr. Peter Schmid. He directs the Breast Centre at St. Bartholomew's Hospital and Barts Cancer Institute in London, England.
However, oncologists also stressed that many women who took the new drug, called Tecentriq (atezolizumab), failed to respond.
The results of this early, phase 1 trial were to be presented Monday at the annual meeting of the American Academy of Cancer Research (AACR), in Washington, D.C. The trial included 112 patients who were treated with Tecentriq, which is one of a new class of medicines called anti-PD-L1 immunotherapies.
These drugs target a cellular mechanism that helps tumor cells evade the body's immune system.
Nineteen of the 112 study participants got Tecentriq as their first line of therapy; the other 93 had already received at least two lines of prior treatment.
Overall, the response rate to the drug was low -- just 11 of 112 patients.
However, results were significant for the minority of patients who did respond, Schmid said.
"The most significant finding is the difference in the overall survival between patients who responded to atezolizumab and patients who did not respond," he said in an AACR news release. "While all responders were alive after one year, the one-year survival rate for nonresponders was only 38 percent."
"Another noteworthy finding is that ... patients treated with atezolizumab had a prolonged median duration of response of 21 months, which is substantially longer than what has been seen with any other treatment to date for this patient population," Schmid added.
Side effects were relatively low. According to the researchers, 11 percent of patients had serious side effects, and only 3 percent of the women stopped using Tecentriq due to side effects.
The study was funded by the drug's maker, Genentech.
Two oncologists who reviewed the findings were cautiously optimistic.
Dr. Daniel Budman directs translational research at Northwell Health Cancer Institute in Lake Success, N.Y. He said that any excitement at the results "must be tempered" by the overall low response rate from this mixed group of patients.
Still, "the study offers a signal that the immune system is important in treating breast cancer," Budman said, "and ongoing studies of this agent and additional immune-stimulatory agents in cancer patients are awaited."
Dr. Nina D'Abreo is medical director of the Breast Health Program at Winthrop-University Hospital in Mineola, N.Y. She noted that Tecentriq has recently been FDA-approved for use against bladder cancer, and these immunotherapies "may be a viable option for this aggressive subtype of breast cancer.
"More importantly," D'Abreo said, "this also sheds some light on which subgroup of patients are most likely to benefit so that they can avoid chemotherapy completely."
For his part, Schmid said that "it will be down to other ongoing and future studies to further improve on these treatment outcomes by optimizing treatment regimens and combinations for this hard-to-treat group of patients."
Because these findings were presented at a medical meeting, they should be considered preliminary until published in a peer-reviewed journal.
-- Robert Preidt

Copyright © 2017 HealthDay. All rights reserved.
QUESTION
See Answer
Health Solutions From Our Sponsors
References
SOURCES: Daniel R. Budman, M.D., director of translational research, Northwell Health Cancer Institute, Lake Success, N.Y.; Nina D'Abreo, M.D., medical director, Breast Health Program, Winthrop-University Hospital, Mineola, N.Y.; American Association for Cancer Research, news release, April 3, 2017