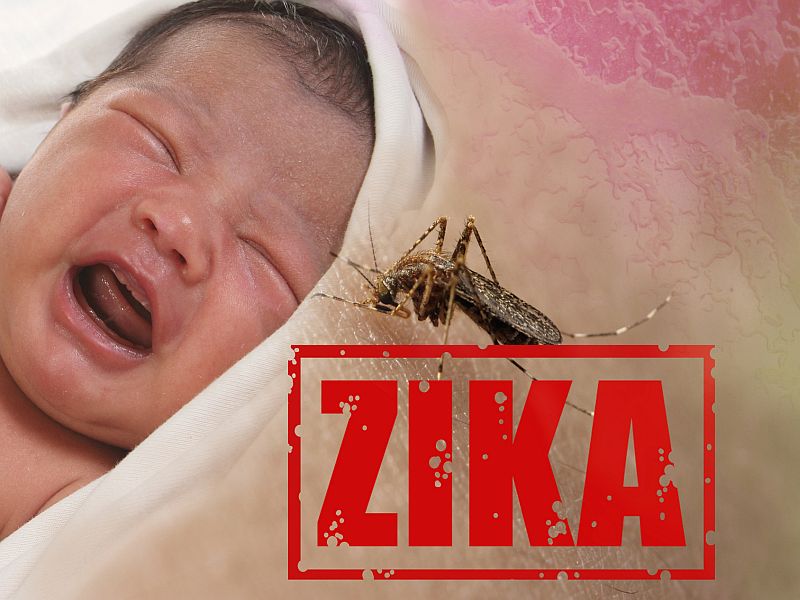 WEDNESDAY, Nov. 30, 2016 (HealthDay News) -- The first case of an infant who developed glaucoma after being exposed to the Zika virus while in the womb has been reported by an international team of researchers.
No previous cases have seen a link between Zika infection and glaucoma, a condition that can permanently damage the optic nerve and result in blindness, the researchers said. But other vision problems and devastating brain defects have surfaced in babies born to mothers who were infected with Zika while pregnant.
"We identified the first case where Zika virus appears to have affected the development of the anterior chamber, or front portion, of the eye during gestation and caused glaucoma after birth," study co-author Dr. Albert Icksang Ko said in a statement. He is a professor at the Yale School of Public Health, in New Haven, Conn.
Ko has been working with doctors in Brazil since the Zika outbreak began there in April 2015, in a collaborative effort to better understand the range of birth defects caused by the mosquito-borne virus.
During the course of their research, the investigators came across a 3-month-old boy who was exposed to Zika while in the womb. Although no signs of glaucoma were present at the time of birth, the infant later developed swelling, pain and tearing in his right eye, the researchers said. Doctors diagnosed glaucoma and performed an operation to relieve the pressure within the boy's eye.
The case was reported online Nov. 30 in the journal Ophthalmology.
Doctors need to be aware that glaucoma is another serious symptom of Zika infection that should be monitored in infants, the study authors said. And more research is needed to determine exactly how glaucoma is caused in infants with Zika.
Most adults who are infected with Zika experience mild symptoms. But, the babies of women who are infected while pregnant can experience devastating birth defects, the most common of which has been microcephaly, where the brain is underdeveloped and the head is abnormally small.
And surprising new research released last week reported that fetuses exposed to the Zika virus can look normal at birth but later show signs of microcephaly and other brain abnormalities.
In that study, scientists found that 13 infants in Brazil who were exposed to the virus in the womb had normal head size as newborns, but subsequently experienced slower head growth.
Eleven of these babies were diagnosed with microcephaly and other neurologic complications associated with Zika syndrome, the researchers reported.
"Among infants of mothers exposed to Zika virus during pregnancy, the absence of microcephaly at birth does not rule out congenital Zika virus infection or the presence of Zika-related brain abnormalities," the U.S. Centers for Disease Control and Prevention said in a news release.
Those findings underscore the need for continuing evaluation of newborns with possible exposure to Zika in the womb, the CDC said when its report was released.
The findings also highlight the "importance of early neuroimaging for infants who were exposed to Zika virus prenatally," the agency added.
Although these babies all tested positive for Zika exposure in the womb, abnormal head growth wasn't detected until at least 5 months of age, according to the report.
The CDC urges everyone -- especially pregnant women -- to take steps to protect themselves from mosquito bites. They should use an insect repellent registered by the Environmental Protection Agency containing one of the following ingredients: DEET, picaridin, IR3535, oil of lemon eucalyptus or para-menthane-diol, or 2-undecanone. They should also wear long-sleeved shirts and long pants, use or repair screens on windows and doors, use air conditioning when available, and remove standing water inside and outside where mosquitoes can lay eggs.
As of Nov. 23, an estimated 182 of more than 4,400 reported cases of Zika infection in the United States were spread by mosquitoes, according to the CDC. Florida and Texas are the only two states to report cases of local, mosquito-borne infection. Though the virus is typically spread through the bite of mosquitoes, it can also be spread through sexual contact.
SLIDESHOW
See Slideshow
Most of the infections reported in the United States originally occurred in areas of Latin America and the Caribbean, where Zika cases have been at epidemic proportions.
-- Robert Preidt

Copyright © 2016 HealthDay. All rights reserved.
From
Women's Health Resources
Health Solutions
From Our Sponsors
Health Solutions From Our Sponsors
References
SOURCES: Yale University, news release, Nov. 30, 2016; U.S. Centers for Disease Control and Prevention, news release, Nov. 28, 2016; CDC's Morbidity and Mortality Weekly Report, Nov. 22, 2016