Latest Infectious Disease News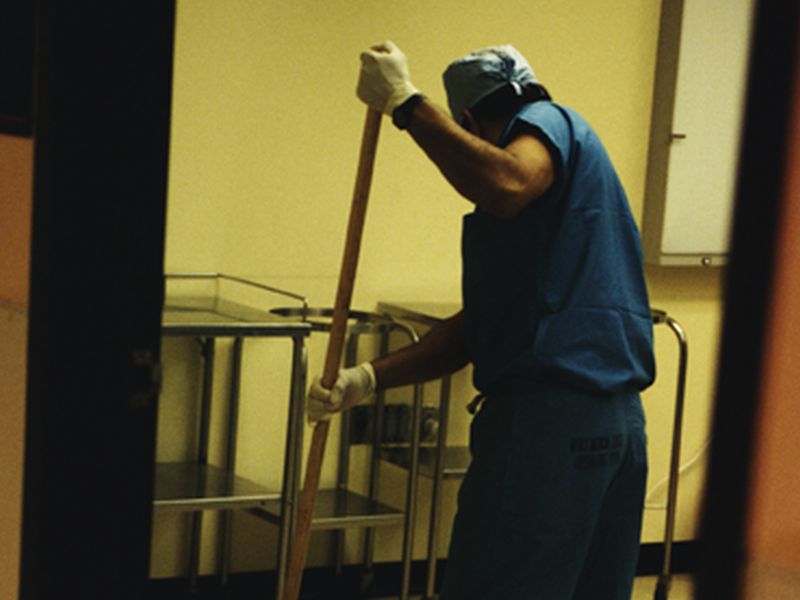 TUESDAY, Nov. 15, 2016 (HealthDay News) -- It's well known that the Zika virus can be transmitted through mosquito bites or, more rarely, sexual contact.
Now, new research raises the prospect that the virus might be able to survive for several hours on hard, nonporous surfaces such as countertops, floors and doorknobs.
There's good news, too, however: Common disinfectants are highly effective at killing any Zika that lands on these surfaces, the researchers said.
The findings were presented Tuesday at the annual meeting of the American Association of Pharmaceutical Scientists (AAPS), in San Diego.
"Zika can survive on hard, nonporous surfaces for as long as eight hours, possibly longer when the environment contains blood, which is more likely to occur in the real world," said lead researcher S. Steve Zhou in an AAPS news release. He is director of virology and molecular biology at Microbac Laboratories, based in Pittsburgh.
Zika virus produces a relatively mild infection in most adults, with only one in every five people showing any symptoms at all, according to the U.S. National Institutes of Health.
However, Zika poses a very big health threat to the fetus. That's because the virus causes severe birth defects including microcephaly, where babies are born with too-small skulls and underdeveloped brains.
More than 2,000 children have been born with microcephaly or birth defects of the central nervous system in Brazil, the nexus of the Zika outbreak in South America, according to the World Health Organization.
In the new study, Zhou's group found that under certain conditions, Zika can live for several hours on nonporous surfaces and still be highly contagious.
"The good news is that we found that disinfectants such as isopropyl alcohol and quaternary ammonium/alcohol are generally effective in killing the virus in this type of environment, and can do so in a little as 15 seconds," Zhou stressed.
The findings are "important to know, especially for health care providers and researchers," he said.
There have been no known cases of the general public being infected with the Zika virus by contacting contaminated surfaces. But, there has been at least one documented case of a laboratory worker being infected with Zika, Zhou's team noted.
The study did not look at whether or how long Zika can survive on nonporous surfaces in hot temperatures. That will be examined in the next phase of research, along with how best to inactivate the virus, the study authors said.
Because these findings were presented at a medical meeting, they should be considered preliminary until published in a peer-reviewed journal.
-- Robert Preidt

Copyright © 2016 HealthDay. All rights reserved.
SLIDESHOW
See Slideshow
Health Solutions
From Our Sponsors
References
SOURCE: American Association of Pharmaceutical Scientists, news release, Nov. 15, 2016