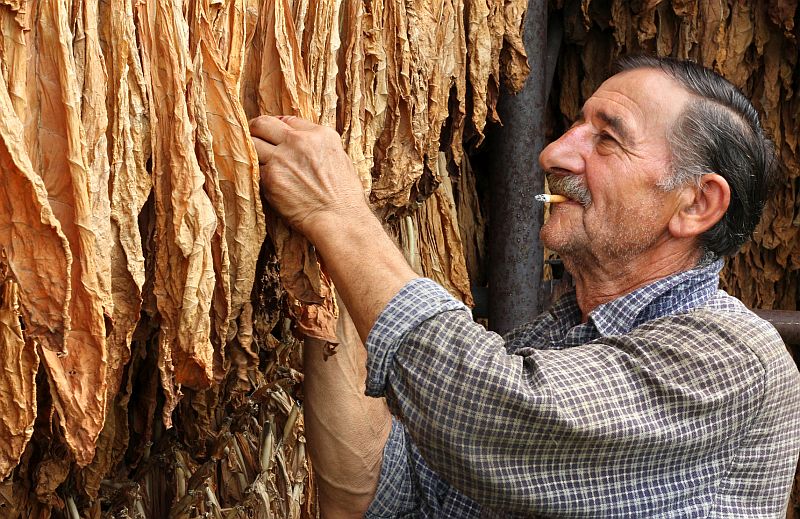 By Dennis Thompson
HealthDay Reporter
TUESDAY, April 19, 2016 (HealthDay News) -- U.S. health officials said Tuesday that they are targeting rural teenagers with a new $36 million ad campaign that highlights the health risks associated with chewing tobacco.
The campaign's message -- "smokeless doesn't mean harmless" -- will challenge a habit that has become a tradition in the rural United States, said Mitch Zeller, director of the Center for Tobacco Products at the U.S. Food and Drug Administration.
"It is culturally ingrained in many rural communities, and can be seen as a rite of passage and an acceptable societal norm," Zeller said during a Tuesday morning news conference. He noted that smokeless tobacco use is more than twice as common in rural areas as it is in urban settings.
Chewing tobacco, snuff and other smokeless tobacco products have been linked to multiple kinds of cancer, gum disease, tooth loss and nicotine addiction, Zeller said.
Nevertheless, smokeless tobacco use has become increasingly popular among rural male teenagers, according to FDA research.
Every day in the United States, nearly 1,000 males younger than 18 try smokeless tobacco for the first time, outpacing those who take their first puff on a cigarette, Zeller said. About one-third of rural white males aged 12 to 17 have tried or are at risk of trying smokeless tobacco, totaling approximately 629,000 male youth nationwide.
Rural teens are used to seeing role models use smokeless tobacco, including fathers, grandfathers, older brothers and community leaders, Zeller explained.
"When people who these teens most trust and admire openly use and share smokeless tobacco, the product is seen as acceptable, and even as an expected part of growing up and belonging," Zeller said.
This is the first time the FDA has focused on smokeless tobacco in an ad campaign, said Kathy Crosby, director of the FDA's Office of Health Communication and Education.
Crosby said the campaign will focus on 35 rural markets across the United States, including: Albany, Ga.; Billings, Mont.; Flint, Mich.; Medford, Ore.; Monroe, La.; Sioux Falls, S.D.; Little Rock, Ark.; and Tri-Cities, Tenn.
Ads linked to the campaign show young men with ugly lip sores and horrific facial scars caused by mouth cancer, and a football player being tossed around by a nicotine addiction "monster." The ads will run on local television and in print, while others appear on local radio and through social media.
The new campaign will also collaborate with select Minor League Baseball teams to help combat the link between baseball and smokeless tobacco use among the campaign's target audience, Crosby said.
This summer, stadiums across the country will display campaign advertising and provide opportunities for fans to meet players who support the campaign's public health message, she said.
The FDA also is in ongoing talks with Major League Baseball about joining the campaign, and Zeller said he is "optimistic" that a partnership will be announced sometime this season.
Major cities such as Boston, Los Angeles, New York City and San Francisco have banned smokeless tobacco products at ballparks and other sports venues. Major League Baseball has warned that players caught violating the ban in these cities will be subject to discipline from the commissioner.
The smokeless tobacco campaign is an offshoot of the FDA's award-winning "The Real Cost" campaign, which since 2014 has been warning teenagers about the health effects of smoking.

Copyright © 2016 HealthDay. All rights reserved.
SLIDESHOW
See Slideshow
Health Solutions
From Our Sponsors
References
SOURCE: April 19, 2016, news conference with Mitch Zeller, J.D., director, Center for Tobacco Products, U.S. Food and Drug Administration, and Kathy Crosby, director, FDA's Office of Health Communication and Education