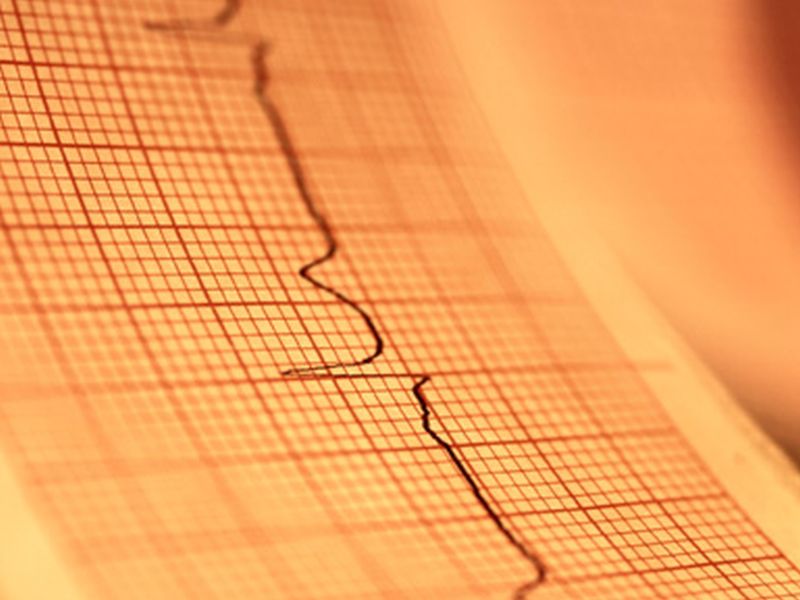 By Dennis Thompson
HealthDay Reporter
WEDNESDAY, Nov. 4, 2015 (HealthDay News) -- One of the new, highly effective drugs for treating hepatitis C can cause a very slow and erratic heart rate in some patients, new research warns.
Doctors at a Paris hospital found that three out of 415 chronic hepatitis C patients treated with the drug sofosbuvir during 2014 developed an abnormally slow heart rate, called an bradyarrhythmia.
In all three cases, the patients were also receiving other hepatitis C medications, including daclatasvir, simeprevir and ribavirin, according to the report.
"The potential cardiac toxicity of sofosbuvir-containing regimens suggests the need for caution with the use of such regimens," the Parisian doctors concluded in the report. They suggested that doctors review other medications and potential risk factors for an abnormal heart rate before prescribing the drug. And, they pointed out the possible need to monitor the heart rate when starting treatment with sofosbuvir.
The study findings were published in the Nov. 5 issue of the New England Journal of Medicine.
Sofosbuvir is approved for use in the United States. But, in March 2015, the U.S. Food and Drug Administration warned that a person's heart rate can become seriously slowed when hepatitis C drug regimens, including sofosbuvir plus another antiviral drug, are used with a heart rhythm medication called amiodarone, background information in the study said.
The FDA warning included the drugs Harvoni and Sovaldi, both of which contain sofosbuvir.
Sofosbuvir has been a breakthrough treatment for people with chronic hepatitis C, the authors said. Treatment with the drug causes viral levels to drop and remain low in more than 90 percent of patients, and the rate of serious adverse events is less than 5 percent, the study authors said.
However, these problems are cropping up because sofosbuvir is being used in a wider group of patients with widely varying degrees of health, said Dr. David Bernstein, chief of hepatology for the North Shore-LIJ Health System in New Hyde Park, N.Y.
"They're being used in more and more patients because they're felt to be extremely safe, but some of the patients now being treated would never have been allowed into any of the clinical trials," Bernstein said.
Bernstein noted that clinical trials involved about 2,000 people, but now hundreds of thousands of patients are taking sofosbuvir. "Now we're going to see the greater experience, and what the larger risks are," he said.
People need to be aware of this potential side effect, but Bernstein said he still considers sofosbuvir a safe drug. He added that he hopes that hepatitis C patients won't decline the drug over fears of heart trouble.
"It's just important that people don't overreact to this," Bernstein said.
Dr. Andrew Muir, an associate professor and clinical director of hepatology at Duke University Medical Center, agreed that these heart concerns are probably limited to a small number of patients. He also felt these findings shouldn't deter hepatitis C patients from taking the drug.
"This whole class of agents have transformed treatment for hepatitis C, and many more patients have been cured," Muir said.
Physicians prescribing sofosbuvir need to check the other drugs their patients are taking, and be mindful of potential heart effects, Muir said. Liver disease specialists might even consider consulting with heart doctors, he suggested.
"This reminds us all that when you are treating patients with other health issues, we need to be mindful of that," he said. "Such patients should be treated by someone with significant experience in hepatitis C, and their physician should be ready to consult with other specialists."

Copyright © 2015 HealthDay. All rights reserved.
SLIDESHOW
See Slideshow
Health Solutions From Our Sponsors
References
SOURCES: David Bernstein, M.D., chief of hepatology, North Shore-LIJ Health System, New Hyde Park, N.Y.; Andrew Muir, M.D., M.H.S., associate professor and clinical director of hepatology, Duke University Medical Center, Durham, N.C.; Nov. 5, 2015, New England Journal of Medicine