Latest Prevention & Wellness News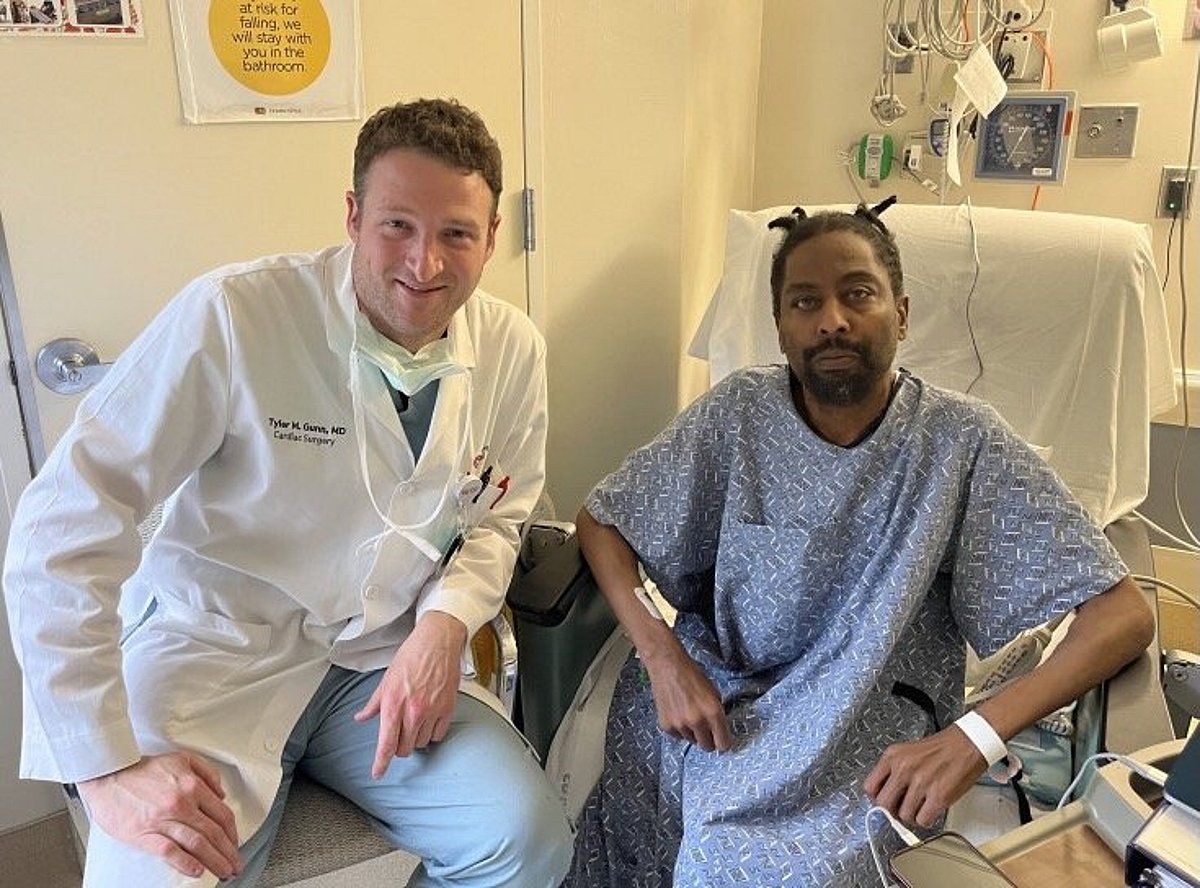 By Denise Mann HealthDay Reporter
MONDAY, Aug. 28, 2023 (HealthDay News)
Valance Sams Sr. believes that he has experienced "a miracle."
Sams, now 46, underwent a triple organ transplant in the spring of 2023, making him one of fewer than 50 people in the United States to ever receive three new organs via transplantation.
He received a new heart, kidney and liver during a 20-hour operation at Cedars-Sinai Medical Center in Los Angeles that involved around 15 surgeons, nurses, doctors, and other health professionals.
Ten years ago, Sams was diagnosed with sarcoidosis, a rare inflammatory disease that causes a buildup of scar tissue in the body's organs. In his case, the disease affected his heart, and he was unable to work, exercise or even walk. His condition worsened and caused gradual damage to his liver, all the while placing real stress on his kidneys.
"If the heart's not working, it can cause something called congestive hepatopathy in the liver, where the liver starts not to work very well," Dr. Irene Kim, director of Cedar Sinai's Comprehensive Transplant Center, said in a Cedars video. "That can cause chronic and permanent damage of the liver, and it can also cause stress on the kidneys."
It was a grim cascade of progressive organ shutdown for Sams, making daily life a struggle.
"Before, I had trouble getting to the car in the morning, just a struggle walking on most days. Until [each] Friday, when I get the paracentesis -- that's when they drain the fluid out of the stomach. Then I can move around a little better," Sams explained in the video.
As a result, the single dad from Baldwin Hills, Calif., had to quit film school. Teenage son Valance Jr. stepped up to be his main caretaker.
"Since the beginning he's been like my nurse, my best friend, my brother -- a whole lot," Sams said of his son.
But after a two-month hospital stay, a matching heart, liver and kidney from a single donor were available for transplantation. The organs were quickly helicoptered in. A team at Cedars came together to perform surgeries lasting over 20 hours.
Step-by-step teamwork
During multi-organ transplants, surgeons operate based on the amount of time each organ can tolerate being outside the body. Teamwork is crucial.
"The first step is the heart transplant," Dr. Tyler Gunn, a cardiothoracic surgeon at Cedars' Schmidt Heart Institute, said in the video. As he explained, it first proceeds as it would with a heart-only transplant.
However, when the transplant is complete "it changes -- we leave the heart and the chest open, allow the liver team to do their anastomosis [connecting the two organs]," Gunn said.
So a team led by Dr. Nicholas Nissen, surgical director of the liver transplant program, stepped up to do their part.
"We open the abdomen, take out the [existing] liver and put in the new liver," Nissen explained in the video. "And it's a little bit tricky, because you've got a fresh heart that's now just starting to work, just starting to feed the body and feed the organs."
Finally, more surgery, as Sams received a new kidney to replace his failing ones.
But two weeks later, the patient was well on his way to a full recovery.
"It's a miracle," Sams told HealthDay. "I was having heart, kidney and liver issues, and now I have a clean bill of health. I can walk upstairs, I got my energy back, and I am happy that I had this opportunity so I can let other people know that there is hope."
One of the keys to success with any transplant surgery is having a patient who is young and highly motivated, and Sams ticked these boxes, said Dr. Justin Steggerda. He's a transplant surgeon at Cedars who also took part in the operation.
"He had family around him to provide support, make sure he took his medication, and give him the internal motivation to get through a really difficult operation," Steggerda told HealthDay. "He had strength in his body and mind to get through this surgery."
QUESTION
See Answer
And he did. "He is doing excellent," Steggerda said.
Sams "does not require any dialysis and his liver is functioning appropriately," Gunn noted.
Finding the right match
Of course, people who receive organ donations must take immunosuppressant medicines for the rest of their lives to make sure their body doesn't reject the donated organ or organs.
"The heart team does a lot of the management of immunosuppressants, as the heart is the most likely organ to be rejected," Steggerda noted.
Triple transplants are also very risky.
"Not all medical centers in the U.S. offer transplants, and even among those that do, not many offer dual organ transplants, let alone triple organ transplants," Steggerda said.
These multi-organ transplants also require a lot of resources. "It is not always easy to identify the right patient and donor and also have the timing work out," Steggerda said.
So before transplantation is even considered, each transplant team has to first evaluate the patient. "It is hard to find a match of three good organs from one donor," Steggerda said.
As the surgical director of liver transplantation at the University of California-San Diego Health, Dr. Gabriel Schnickel has had some experience working on "triple transplant" teams.
"We are getting better at doing these operations, and collaboration between surgeons has gotten better, too," he told HealthDay.
Certain advances have helped move the needle. For example, Schnickel said he uses what's known as a perfusion machine to help extend the time that a liver is viable outside of the body.
"This allows us to minimize the stress on the new heart when we put the liver in as blood flow through the liver can be stressful on a brand-new heart," Schnickel explained.
More information
The United Network for Organ Sharing provides more on organ donation and transplantation.
SOURCES: Valance Sams Sr., Baldwin Hills, Calif.; Justin Steggerda, MD, transplant surgeon, Cedars-Sinai Medical Center, Los Angeles; Gabriel Schnickel, MD, MPH, surgical director, Liver Transplantation, UC San Diego Health; Cedars-Sinai video

Copyright © 2022 HealthDay. All rights reserved.
From
Health Solutions
From Our Sponsors